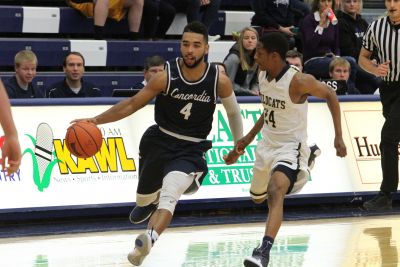 Standerfer lifts York College to 71-63 win over Concordia
York College picked up a 71-63 men's basketball win over Concordia on Friday evening at the Cornerstone Classic Tournament in York. It was the opening game of the season for both teams. Turnovers and cold shooting plagued the Bulldogs in the loss.
Corey Standerfer led the way for the Panthers in the win. He led all scorers with 26 points and added seven rebounds. Standerfer was 8-of-15 from the field and a perfect 9-of-9 at the foul line on the night. Dedrick Dews was the only other player in double figures for York with 10 points. Thaddeus Varmall added nine points for the Panthers.
York College was 25-of-58 from the field for 43.1 percent on the night. The Panthers were 7-of-23 (30.4 percent) from behind the three point line and 14-of-17 at the foul line for 82.4 percent. The Panthers finished with 15 turnovers in the game.
Porter Birtell had a team-high 24 points for Concordia in a losing effort. Birtell (Madison, Neb.) connected on 11-of-17 field goal attempts on the night. However, the Bulldogs were hurt by turnovers and poor free throw shooting throughout the game. Concordia finished with 18 turnovers and went just 12-of-24 from the free throw line in the loss. Ryan Shrum (Allen, Texas) added 10 points, while Tyler Byrd (Bennington, Neb.) scored eight on the night.
Concordia was 23-of-52 from the field for 44.2 percent. The Bulldogs, however, struggled from long range, hitting just 5-of-21 from behind the arc. Concordia held a 38-30 rebounding advantage in the contest.
The Bulldogs are back in action on Saturday. Concordia concludes play in the Cornerstone Classic with a 3 p.m. contest against Bethany College.