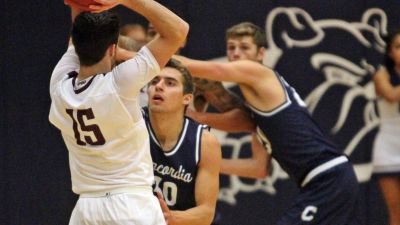 Through six games, the top three scorers for the Concordia University men's basketball team are all sophomores. They are averaging a combined 47.5 points per game. As freshmen, that same trio averaged a collective 22.4 points per game. As a whole, the sophomore class has accounted for 81 percent of the team's scoring.
The sophomoric Bulldogs have jetted out to a 5-1 start that may come as a surprise to some. The graduation of All-American Chandler Folkerts and prolific 3-point shooting guard Eli Ziegler likely had much to do with Concordia being picked to finish higher than only two teams in the GPAC preseason poll. The season is still very young, but the rapid rise of the group of second-year players has provided reason for cautious optimism.
Let's revisit what the team's lone senior said back in the preseason in regards to the sophomore class. Offered Kyle Pierce, "They're only going to get better. They're only going to get stronger and more confident. We're going to expect big things from them this year for sure."
Remarkably, the big things came immediately. Down 10 in the second half in the season opener at Kansas Wesleyan, first-year starters Jake Hornick and Clay Reimers showed the calmness and confidence of savvy veterans. Hornick put up 23 points, seven boards and four assists while Reimers went for 21 points.
Neither one has shown any sign of slowing down. A native of Loveland, Colo., Hornick has been a revelation in his new role as a point guard after coming off the bench last season. Hornick stuffed the stat sheet with 20 points, nine assists and eight rebounds in Wednesday's 86-72 win over Midland.
"He was a beast," said head coach Ben Limback after the victory. "I got on him a little bit at the end defensively and then I realized how many minutes and how hard he was playing. Jake did a lot of things I don't think you realized until you see the stats or watch the film. The kid is just a competitor. He hates losing. You could see it out here."
On the interior, Reimers has a skillset you just can't teach. Though lanky at 6-foot-8, Reimers has shown more than enough strength to throw down dunks in traffic. It was clear down the stretch last season that Reimers had star potential. He can score and defend in the post, he can step out and shoot threes and he can rebound – and he provides a bit of edginess that is a positive for a young squad. He currently ranks third in the GPAC in rebounding and seventh in the league in scoring.
"Obviously my role has changed since last year. I'm looking to take on a much bigger role," Reimers said after a win over Mount Mercy on Nov. 3. "Right now I'm just kind of getting started. I can get points when I need to get points and my teammates will do their jobs. Everybody's going to be themselves and I'm going to be me."
The starting five also features sophomores Tanner Shuck (11.5 ppg) and Cordell Gillingham (6.8 ppg). Shuck is a deadly 3-point shooter and one of two returning starters from last season. Meanwhile, Gillingham has impressed Limback with his max-effort style and he can contribute offensively like he did when he canned a key trey to snuff out a Midland run on Wednesday.
Off the bench come more sophomores in Zach Friel (5.8 ppg), Riley Tegtmeier (5.7 ppg) and Brevin Soup (3.0 ppg). In all, that makes seven sophomores worthy of regular playing time.
"Looking back a year ago, some of these guys weren't getting any varsity time at all," Hornick said after a Cattle Classic win on Nov. 4. "We all got together this summer and worked really hard together. We just want it bad. I think we're going to be special. I think we're going to go a long way."
A lot more will be learned about this group over the coming weeks and months as GPAC grinders and holiday trips play out. A significant challenge awaits on Saturday when the Bulldogs (5-1, 1-0 GPAC) venture to Mitchell, S.D., for a 4 p.m. CT tipoff at No. 10 Dakota Wesleyan (4-3, 0-1 GPAC).