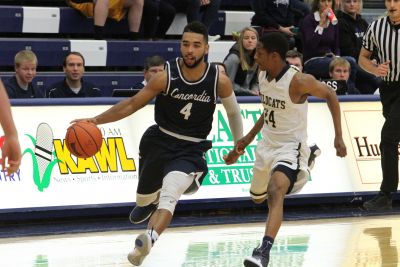 Sophomores rise to occasion in win at Doane
CRETE, Neb. – In a battle between teams seeking their first GPAC victories of the season, Concordia burst out of the gates on the way to a nailbiting 86-81 victory over rival Doane (5-6, 0-5 GPAC) on Wednesday night. An early 17-2 spurt propelled the Bulldogs to their first victory in the past four meetings with the Tigers. First-year head coach Ben Limback's crew also picked up its first road win and improved to 3-6 overall and 1-3 in conference action.
Trailing 79-78 with less than a minute-and-a-half to play, Concordia turned to sophomore Robby Thomas who tossed in a wide open trey off the assist from freshman Chandler Folkerts, putting the Bulldogs up for a good.
With Thomas' clutch shot and sophomore Deondre White's key driving layups down the stretch, Concordia showed the toughness to overcome a Doane rally on the road.
"Any time you win on the road it's exciting," Limback said. "At the same time we can't be satisfied. We have some silly things to clean up before Dordt on Saturday, but there's a lot of excitement in the locker room tonight. A lot of guys played big."
White enjoyed perhaps his best game as a Bulldog. He put up a career best 13 points, had big buckets down the stretch and played aggressive defensively. The Lincoln native knifed through the Doane defense for layups at the 4:29 and 2:08 marks – both allowing Concordia to regain the advantage in the seesawing moments of the contest.
"He scored more than he has all year but it was his defense (that was key)," Limback said. "He guarded their best player and held him to two points in the first half. He was physical and he was a beast the whole game."
Those heroics gave the Bulldogs confidence in the face of Doane's late push. The Tigers led 4-0 to begin the game but did not hold an advantage again until a Dominique Smith lay in with 2:33 to play. That's when White stepped up.
Concordia would go on to salt the game away at the free throw line with Thomas and senior Adam Vogt combining to make 5 of 6 from the stripe in the final minute.
Defensively, Concordia, ranked No. 5 nationally with 4.75 blocks per game entering the night, added nine more rejections and did not allow a Tiger basket over the final two-and-a-half minutes. Thomas added to his GPAC-leading block total with four more on Wednesday, including one during crunch time.
"That's part of our strength this year. We've got length one through five," Limback said. "Our bigs – Justin (Damme), Chandler and Robby get in position and do a great job stepping in. Robby just has amazing timing."
Early on, Vogt gave Concordia a big lift by dialing up three treys in the game's first 14 minutes. He teamed with Thomas for a potent one-two punch. They combined for 35 points as Thomas topped Concordia with 18 points.
Vogt and Thomas were the stars of an offensive effort that blistered to the tune of 55.6 percent shooting from the field and 50 percent from 3-point range. Concordia turned it over just nine times.
All five Bulldog starters reached double figures in scoring. Folkerts chipped in 12 points and freshman Aaron Walker added 10.
Sophomore Micah Kohlwey, son of assistant coach Marty Kohlwey, played Wednesday for the first time as a Bulldog. His scoop layup late in the first half was his first career bucket and gave Concordia a 40-24 lead. He finished with five points in eight minutes.
The Bulldogs are back at home on Saturday afternoon to host No. 12 Dordt (11-1, 4-0 GPAC) at 4 p.m. inside Walz Arena. The Defenders, who defeated Briar Cliff, 104-97, on Wednesday night, have won the last six meetings with Concordia.