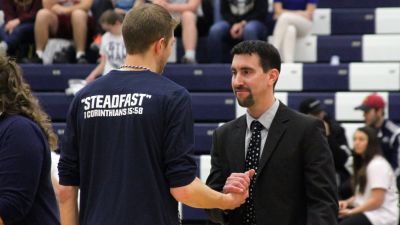 ORANGE CITY, Iowa – The Concordia University men's basketball team didn't know it until late in Wednesday's contest, but the winner that emerged victorious from the battle at the Bultman Center would earn the right to host Saturday's GPAC semifinal clash. That thought made it sting a bit more after the Bulldogs' 2017-18 season ended with a 107-87 loss at 11th-ranked Northwestern in conference postseason action.
Fifth-year head coach Ben Limback's squad never quite got over the hump this season when up against the top four seeds in the GPAC's final standings. Concordia heads into the offseason at 17-13 overall.
"Coming in, we knew were going to have to at least compete with them on the boards," Limback said. "We didn't do it – 37-22. The bottom line was we just didn't rebound well enough.
"We decided to make some other guys beat us. We wanted to take (Colton) Kooima and make him distribute it. You have to tip your hat to the guys that normally don't shoot a lot for them. They stuck it. We had to adjust. They're just a really good team."
The sophomore combo of Jake Hornick (26 points, 9-for-14 from the floor) and Clay Reimers (19 points, four assists) showed why there's plenty of optimism for where the program is headed. The two standouts helped the Bulldogs go 10-for-12 (6-for-8 from 3-point range) to begin Wednesday's contest. The early flurry helped Concordia lead by as many as six points during the first half.
It's fair to say that the Red Raiders (24-5) just had too many weapons. After Kooima burned the Bulldogs for a combined 88 points in two regular-season meetings, Limback made it a point of emphasis to limit the Northwestern sharpshooter. Kooima had only eight points, but he dished out eight assists and five of his teammates poured in 13 or more points. Riley Francis and Nathan Wedel were the ringleaders with 25 apiece. Collectively, the Red Raiders shot 63.6 percent and were 16-for-28 from beyond the arc.
Down 68-47 early in the second half, Concordia had one last gasp. It went on a 10-0 spurt and twice whittled the deficit down to eight thanks to triples by Hornick and Noah Valasek. Down the stretch, the stops didn't come. Francis and Wedel both drained a trey in the final few minutes to put the finishing touches on a Northwestern win.
It marked the final collegiate game in the careers of Chris Johnstone and Kyle Pierce. Pierce has been the lone senior on this year's roster while Chris Johnstone will forego his last season of eligibility. The bulk of Limback's varsity roster is set to return in 2018-19. Seven sophomores on the 2017-18 roster averaged more than 10 minutes per game.
"Kyle and Chris are tremendous people. We're certainly going to miss their team mentality and who they are as people," Limback said. "There's a lot of excitement moving forward because a lot of our nucleus was young this year. The goal now is to grow and get better."
Pierce tallied 11 points while joining Hornick and Reimers in double figures. The Bulldogs shot 52.5 percent overall and 12-for-33 (.364) from 3-point range. The program remains in search of its first postseason victory since 2009.