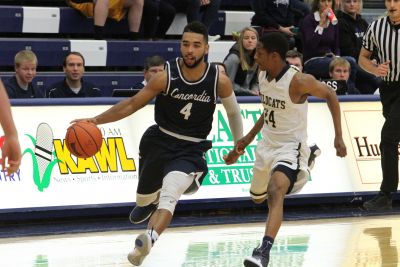 Sons of former Bulldog standouts invade boy's basketball camp
Several names familiar to Bulldog basketball fans made up the list of campers that flocked to Concordia University throughout this week for the annual event hosted by the men's basketball program. There were Limbacks, Smiths, Works and Snodgrasses – more than enough to fill out an entire starting five.
The collection of sons of former Bulldog basketball greats made the boy's basketball camps particularly special for Concordia head men's basketball coach Ben Limback, whose sons Leighton and Malachi were in action throughout the four days of the individual camp.
"I think they've had a blast around other kids," Limback said. "I think they enjoy being together and with former Bulldog players' kids. It's fun to my sons at an age where they can come to a camp. I know they're having fun too."
The Limbacks posed with the Smiths, Snodgrasses and Works at the conclusion of Thursday's camp. Director of Athletics Devin Smith's son Elijah, a Seward High School student, took part in the camp. As did three sons of Mike Works (1990-92) and two sons of Glen Snodgrass (1995-98), now the head football coach at York High School.
"It's fun to see some guys that you played with and some former players back in the gym," Limback said. "Just seeing their sons playing is great. They look like their dads and have similarities in their mannerisms, but everybody's different. They all have different skills so it's fun to see their children and the different strengths and weaknesses.
"I love seeing the kids of alumni in the gym. Obviously we all had a great experience at Concordia. We hope they do too."
Devin Smith (1,659), Ben Limback (1,158) and Mike Works (1,039) were all 1,000-point scorers during their collegiate careers on the hardwood. Limback is the school's all-time steals leader with 229 and Glen Snodgrass holds the program record for career blocks (188).