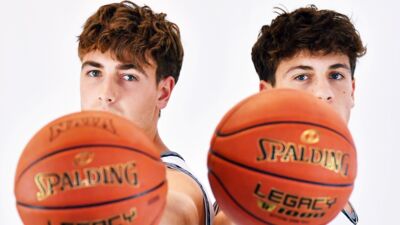 On a Friday morning in mid-December, Gage and Tristan Smith are recalling memories of a childhood steeped in family, fitness and chicken and rice. Had Gage decided that four years of life as a student-athlete at Concordia was enough, he wouldn't be sitting there that day, laughing and sometimes trading playful barbs with his "little brother." A fifth and final season of college basketball meant one more year together with Tristan, and that was too good for Gage to pass up.
It's been roughly 10 months since that moment occurred, but they still light up when asked about it – "The Alley-Oop" this past February versus Briar Cliff. In an instant, Tristan became a central figure in the most viral moment in Concordia Athletics history. Gage produced a monster effort that night: 23 points and 17 rebounds. But it was Tristan's layup at the buzzer to beat Briar Cliff, 74-73, that will be forever remembered by those who witnessed it.
The discussion surrounding that play cuts to the essence of who they are as brothers. For that specific moment, Gage the senior had taken a backseat to Tristan the freshman. The way Gage and Tristan are wired, the dynamics never caused any problems. As Gage says, "My Dad loves using that. He's like, 'Man, Gage, you had 23 and 17, and T-Ray had two points, and he got featured on SportsCenter.' I was happy for him. That was so cool."
Gage isn't just paying lip service. He means it. There's a rather obvious and refreshing respect Gage and Tristan share for one another. Basketball is one thing, but family is everything when it comes to the Smiths. When Tristan's alley-oop went through the net courtesy of Carter Kent's perfectly placed length-of-the court baseball pass, father Lance Smith didn't hesitate to rush the floor himself. Lance is always there, and so too is their mother Michelle and oftentimes their sisters Kylee and Haley.
Elizabeth, Colo., may be their hometown, but Seward is most certainly a second home to the Smiths. The family even owns a home in Seward that allows for extended stays without having to make the continual eight-hour commute. In other words, Gage and Tristan see a lot more of their parents than typical out-of-state student-athletes likely would. They wouldn't have it any other way. As Tristan jokes, "We get free food out of it."
The nourishment helps support basketball careers that have flourished at Concordia. The Smith Brothers make up two-thirds of the starting frontcourt, along with star Noah Schutte. From a basketball standpoint, Gage and Tristan both consistently 'wow' observers with their athleticism and physical talents. The crafty veteran Gage knows how to use his muscle-bound 6-foot-6 frame to overpower opponents – and his motor never stops. His growth over his college years has been striking (he now ranks in the top five in school history for career rebounds). As for the 6-foot-5 Tristan, he's proving as a sophomore that he's a whole lot more than just that guy who finished The Alley-Oop. He's averaging 14.7 points per game and the arrow keeps pointing straight upward.
Gage first found his way to Concordia due to a connection he had with a former Bulldog, also a native Coloradoan. The basketball program, the coaching staff and the whole Christian atmosphere felt right for Gage. At the time of his commitment (then just a scrawny young man), no one could have known just how significant the decision would become for Concordia Men's Basketball.
"I like the Christian culture here," Gage said. "You can tell that Coach (Ben) Limback is a big Christian guy. All the coaches and staff are really big on their faith. I really like that in a school. I like being around people that have a lot of those same beliefs. I think I've grown as a person. T-Ray is really good. He could have gone D-I, so I think it's pretty cool he came to Concordia to play with me. It's been a great ride."
The pull of family certainly played a role in Tristan making his own decision to sign with Concordia. Limback and his staff knew they were getting a potential star who was still figuring out how to best implement his freakish athleticism. Both Gage and Tristan were blessed with height they never would have expected to have. Both grew past their father, who was a fine athlete in his own right. A former JUCO football player who became a bodybuilder, Lance Smith fittingly met his wife Michelle in a fitness setting – at 24-hour gym he used to work at.
It's no wonder a healthy lifestyle was ingrained in Gage and Tristan from an early age. Said Gage, "Our whole lives we've lived the fitness lifestyle. Our mom is super cautious about bringing into our home non-toxic, non-chemical products, very environmentally friendly products. Our Godfather owned a 24-hour fitness. My Dad worked with him at the gym and that's how my parents met."
Added Tristan, "We grew up on chicken and rice. I think I started lifting at 12 but I didn't get serious into it until I was about 14. We learned the technique early. We did body-building type lifting until probably high school and we started switching to more athletic lifting."
The fast pace of basketball jived well with the way the Smiths like to live their lives. On the family driveway, rough and tumble basketball ensued, preparing them perfectly for the rigors of GPAC hoops. With three years advantage over his brother, Gage had the upper hand. Admitted Tristan, "We would go out there and Gage would beat me pretty bad. It caused a few fights." Eventually, both brothers were getting the best of their father on the basketball court. In Lance's defense, the series of rotator cuff surgeries didn't necessarily allow for a fair fight.
Lance never backed down though. His competitiveness surely rubbed off on his children. Says Tristan, "He's a strong dude. He loves fitness. He's probably the biggest reason we got into sports."
While the Smith brothers both chose Concordia, the Smith sisters currently live together while attending Colorado State University. Gage and Tristan will vouch for the athleticism of their sisters. Tristan went so far as to say that Kylee is "possibly" the best athlete of the siblings. She was a two-time state champion gymnast who committed long hours to the craft before going to CSU strictly as a student. Tristan also remarked that Haley had a "pretty shot" on the basketball court. The sport just wasn't her thing.
Said Gage of Kylee and Haley, "They were both insane. They're very athletic."
No matter what, each of the Smiths have supported one another's endeavors. The Smith Brothers found what they liked, and they went all in on it. Basketball it was and hockey it wasn't. Tristan conceded while smiling that they are "not good Coloradoans" because they never gravitated towards skiing, snowboarding or ice skating. They found plenty of other activities. Gage and Tristan even tried golf on a whim. Tristan once shot a 118 at a regional meet – not quite good enough for a golf scholarship.
Only once during their youth did Gage and Tristan play together on an organized team. It happened when Gage was in fifth grade and Tristan was in second. Tristan tore his quad as a freshman in high school and missed an opportunity to play on the same Elizabeth High School basketball team as Gage. He'll take the fall for that one. Said Gage, "That was my bad. I made him deadlift. I thought he had it."
It simply makes the current circumstances that much more rewarding and fulfilling. The entire Smith family is going to keep soaking up the opportunities to watch Gage and Tristan compete together at Concordia. If they were playing on opposite ends of the Earth, Lance Smith would probably still find a way to be there. Work-from-home jobs have come in clutch for Lance and Michelle.
"They've made our games our whole life," Tristan said. "I don't think my dad has missed more than five games my entire life, and that includes club, AAU and all that. It's been a blessing."
The Smiths are all about making memories together. We couldn't help but relive that Briar Cliff moment at least one more time.
Said Gage, "I thought the game was over. I didn't even pay attention to the play call. I was fouled out." Replied Tristan, "I think we ran it wrong. Sam (Scarpelli) ran over like three dudes. I just ran to the rim. Justin (Wiersema) and Sam just sandwiched the guy. Carter threw a dime. I did not think we executed that play that well." Added Gage, "That throw by Carter off-balance was ridiculous."
Who knows what else is waiting yet in this 2022-23 season. The Smiths know they were part of something special last season in a campaign that was about more than what happened on the basketball court. They will never forget the Briar Cliff game, three court storms in a three-week stretch, winning the GPAC tournament title at home, boogie boarding in Florida and appearing on the national stage at Municipal Auditorium in Kansas City.
Family makes the memories sweeter. It's that influence that raised Gage and Tristan up right.
Says Gage, "Family is everything, man. No matter what happens, you have your family. They are with you forever."
"Our motto this year is family, which means, 'forget about me, I love you,'" Tristan said. "The team is like our second family. It makes it easier when you have those guys behind you and know you can trust everyone on the floor. It makes it a lot easier to play the game. Having my actual brother on the team makes it kind of easy too. If I'm having a bad game, he can kind of hit me. He would do anything to watch me succeed and have the greatest career I possibly could."
Take their advice. Eat the chicken and the rice.