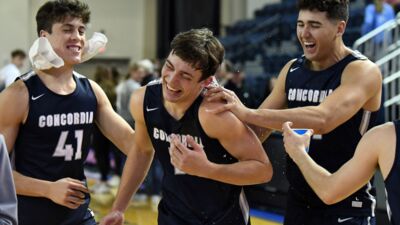 Things came pretty easy for Noah Schutte. Bigger, stronger and more athletic than most of his competition at the Nebraska High School Class D1 level, Schutte dominated his way to eye-popping numbers. The Laurel-Concord-Coleridge High School star piled up more than 2,000 points and 1,000 rebounds in his prep career on the hardwood and moved past 1,000 receiving yards in two separate seasons on the gridiron. He graduated as his high school's all-time leading scorer and all-time leading receiver.
Such exploits that included a basketball state championship run his senior year made Schutte a well-known figure within the small community of Laurel, Neb., and the surrounding small towns.
Says Concordia Men's Basketball Head Coach Ben Limback, "His athleticism and his skill level stood out at that point. He was able to score effortlessly when we saw him, whether it was inside or shooting threes. You could tell he was scratching the surface. At that level, he could rely on his athleticism. I'm really impressed with how he's adjusted to the speed and intensity of the college game. He loves basketball and you could see that in high school. Even now, he's always in the gym. He loves to get extra reps. In high school, you could see that he was a gym rat and he loved basketball and he had all this potential."
With at least two collegiate seasons still left (three remaining seasons of eligibility), the 6-foot-4 Schutte is starting to realize his vast potential. Schutte's profile exploded on a national level as part of the Bulldogs' run to the NAIA National Quarterfinals. So impressive he was on the national stage, it was almost as if Schutte was back inside the gym at 502 Wakefield Street in Laurel. He averaged 20.0 points and 9.8 rebounds and shot 63.4 percent from the floor over four national tourney outings and was chosen to the NAIA Men's Basketball National Championship All-Tournament Team.
If you only knew Schutte from his rookie season as a Bulldog in 2020-21, you may have been taken by surprise by those accomplishments. During that first campaign, Schutte averaged 5.8 minutes played per game in 17 contests. He scored a grand total of 49 points. Humble and soft spoken, Schutte himself will tell you that he wasn't a ready-made college basketball star. There was some adjustment taking place for someone who came out of a graduating class of 25.
"I think the biggest adjustments were being more physical, knowing I would be playing against bigger guys, and a faster pace of play," Schutte said. "Even Coach told me in the preseason before my freshman year that I was going to have to adjust to the game coming from a small school and that the game was going to be a lot different."
As Limback confirms, Schutte was on the bubble as to whether or not he would make the varsity roster a year ago. But even in the preseason of 2020, Schutte's talents were obvious. As part of his periphery role his first season with the Bulldogs, Schutte would sometimes emerge with a thunderous dunk or strong take inside that would hint at what was to come.
"He came in and had all this potential," Limback said. "He just didn't understand the intensity level. I was joking with him last week. I pulled him in for a meeting like a week into practice his freshman year. I asked Noah, 'What's your goal?' He talked about making varsity. We talked then about being more competitive. At that time, he was on the fringe as far as making varsity, believe it or not. From that day on, he turned it up. He just needed to understand how hard he needed to compete. I told him that day: 'You're going to be an All-American if you figure this thing out because you have all the tools.' I think he's on that path."
What's happening now may not be so surprising to those who watched Schutte in high school. As a senior for the Bears, he averaged 24.6 points and 13.1 rebounds per game and was named by the Omaha World-Herald as a finalist for the High School Boy's Athlete of the Year award. Even the pandemic couldn't 'Schutte' down the LCC state championship run that Noah and his teammates celebrated just before COVID-19 brought the world to a standstill in March 2020.
Noah came to Concordia with rave reviews from his high school head coach Todd Erwin, who told the Cedar County News, "With his hard work, dedication and some God-given talent, Noah can do it all. He can play every position and does it calmly and quietly, needing no recognition. He just does it for the team."
Noah likely got his work ethic and humility, at least in part, from his upbringing. He carries himself with some of those stereotypical Nebraska farm tough qualities. One day after his basketball days are behind him, Noah expects that he will take over the farm (located 15 miles northeast of Laurel) that has been in his family for generations. Farming is a way of life passed down to Noah's father John, also a 1,000-point scorer for what was then Laurel-Concord High School. Along with farming, there's always been time for sports in the Schutte family. Take for example, Noah's Great Uncle Jim, who played at Concordia and has been a faithful supporter.
Comparatively speaking, Concordia and the Seward community are like a sprawling, urban metropolis. No matter how small the high school, Schutte's game was too big to ignore. Several GPAC schools came calling, but Concordia was the one that felt right.
Said Schutte, "Throughout high school when I started getting coaches talking to me and offering me, I realized that's what I wanted to do. I got a few offers here and there and just looked around. I'm just so glad I chose Concordia. The facilities are amazing and just getting to know my teammates here, they were amazing. I couldn't imagine getting on the court with anybody else."
Just go ahead and try to heap praise upon Schutte and he'll do his best to frame his response in the context of team success. There was plenty of that for Concordia Men's Basketball during a wild 2021-22 ride that included GPAC regular season and tournament titles. Coming into this season, outsiders knew about the likes of Carter Kent, Gage Smith and Justin Wiersema, but did anyone have any idea about Schutte's impending breakout stardom?
Quietly, and in his own way, Schutte was growing in confidence. Schutte really burst onto the scene back on Nov. 23 when he went off for 27 points in the 92-76 win over then 10th-ranked Jamestown. Towards the end of the game, Schutte even played with tissue in his nostril to keep from bleeding on the court (we told you he was farm tough). He was beginning to prove that he could compete with anyone. Said Schutte, "My freshman year was a learning experience for me in adjusting to the college game. My teammates were always there telling me the potential I had. I just kind of took that and put in the work. You can see the success we had this year."
Schutte's monster national tournament won't change him one bit. He'll still be the mild-mannered farm boy who gains an edge with his ability to outwork others – and sometimes dunk on top of them. Explained Schutte of his production on the national stage, "My teammates just found me in mismatches. Coach does a great job before the games of telling me things to give me confidence. I think we were playing our best basketball at the end of the season. You could see it in Omaha especially."
It makes sense that the community that surrounds Laurel-Concord-Coleridge would beam with pride in claiming Schutte as one of its own. He's no longer merely regionally known or simply a smalltown hero, Schutte has popped on a national level. He won't fly under the radar anymore.
"He's probably the most humble kid on the team, which makes him a joy to be around and a joy to coach," Limback said. "The message for him in our end-of-the-year meeting was, this is great, now let's take it to another level with how you're going to influence other guys and be more consistent. I think he's hungry. I'm really excited for the work he's going to put in."
Somewhere in a gym, an unsatisfied Schutte is getting shots up. He won't rest on his laurels.