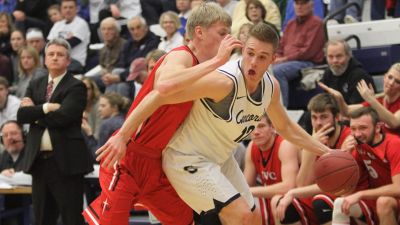 SEWARD, Neb. – The good news: Colton Kooima has played his last game at Walz Arena. The bad news: the prolific senior guard racked up 37 points on Saturday and led visiting 11th-ranked Northwestern to an 83-73 win over the Concordia University men's basketball team. The Red Raiders escaped Seward with a win despite going just 6-for-27 (.222) from beyond the 3-point arc.
Fifth-year head coach Ben Limback's squad remains in search of that signature win within conference play. Still in a fight for a top four finish and the right to host a conference tournament quarterfinal game, the Bulldogs stand at 16-9 overall and at 7-7 in conference play.
"I thought we really guarded hard in the second half," Limback said. "I was really proud of our guys coming out of half defensively. I thought they made some tough shots, but we started to get in a rhythm. We had some key moments with about six or seven minutes left where we just kept turning it over. That's the tough balance with being aggressive without forcing it. They're too good for us to have 15 turnovers."
Concordia would be just fine if it never had to see Kooima again. In two Red Raider wins this season over the Bulldogs, Kooima rattled off a combined 88 points, including 51 in the meeting in Orange City, Iowa. The two-man wrecking crew of Kooima and Nathan Wedel (22 points, nine rebounds) teamed up for a collective 59 points. As a squad, Northwestern shot 45.8 percent from the floor, significantly lower than its season average of 51.5 percent entering the afternoon.
What stings for Concordia is that this one was there for the taking. After trailing by eight (46-38) at the half, the Bulldogs got within two points on three separate occasions during the second half. Too often, Concordia couldn't get the big basket it had to have. During one stretch late in the game, it gave the ball away on three-straight possessions, helping the Red Raiders (20-4, 10-4 GPAC) build a double-digit advantage.
The Bulldogs wasted a career high 20 points from Cordell Gillingham, who went 8-for-18 from the floor while making all three of his attempts from long range. Clay Reimers (16 points, 10 rebounds) contributed a double-double and Jake Hornick (10) and Tanner Shuck (10) both reached double figures. However, Concordia's shooting percentage of 42.6 (23-for-54) wasn't going to cut it against one of the nation's top offensive teams.
"I thought we guarded the well enough today," Limback said. "Those two guys (Kooima and Wedel) are going to score. The other guys – we did a good job. They shot 22 percent from three. We just had that stretch offensively where we turned it over and didn't take advantage of our stops. Against a team like this we have to be able to score points."
Northwestern is right in the mix as part of a three-team race for the GPAC regular-season title. With Saturday's win, the Red Raiders pulled within a half-game of Briar Cliff (11-4) and Morningside (11-4) atop the league standings. Briar Cliff and Morningside both lost on Saturday.
A challenging week on the road in Sioux City, Iowa, awaits the Bulldogs next week. It gets started on Wednesday (Feb. 7) when a battle at fourth-ranked Briar Cliff (22-5, 11-4 GPAC) unfolds. The contest is set to tip off at 8 p.m. CT from the Newman Flanagan Center. Concordia will attempt to avenge a 78-65 home loss to Briar Cliff that occurred on Jan. 10.