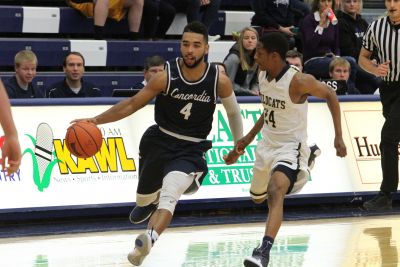 Shrum and Huebner lead Concordia to blowout of Midland University
Concordia University led 41-17 at halftime and cruised to a 79-56 men's basketball win over Midland University on Wednesday evening in Seward. The Bulldogs improved to 12-6 overall and 6-4 in conference play with the win. Midland dropped to 5-17 overall and 1-9 in conference play with the loss.
Midland scored the opening basket of the game, but Concordia responded with 11 straight to take an 11-2 lead with less than 13 minutes remaining in the first half. From there, the Bulldogs took complete control of the game. Concordia led by as many as 32 (41-9) with just under two minutes remaining in the half and took the 24-point lead into halftime.
Concordia was 16-of-31 (51.6 percent) from the field in the opening 20 minutes. The Bulldogs totaled 11 assists on their 16 made field goals. Midland was just 6-of-30 (20 percent) overall and 1-of-11 (9.1 percent) from deep in the first half.
The offense continued for Concordia in the second half, as the Bulldogs were 14-of-26 (53.8 percent) from the field. Midland would get no closer than 21 in the final half, and the Bulldogs settled for the 23-point victory.
Concordia was 30-of-57 (52.6 percent) from the field for the night. The Bulldogs were 10-of-25 (40 percent) from long range and 9-of-11 (81.8 percent) at the foul line. Concordia held a 42-30 rebounding advantage and finished with 20 assists on their 30 made field goals.
Ryan Shrum (Allen, Texas) scored a game-high 18 points for the Bulldogs in the win. Sam Huebner (Aurora, Colo.) scored 17 points and grabbed a game-high nine rebounds, and Tyler Byrd (Bennington, Neb.) added 13 points and five assists. Adam Vogt (Syracuse, Neb.) delivered 11 points, and Charles Dunbar (Florissant, Mo.) chipped in with eight points and eight assists off the bench for Concordia.
Midland was 21-of-61 (34.4 percent) from the field in the loss. The Warriors were just 3-of-22 (13.6 percent) from deep and 11-of-16 (68.8 percent) at the foul line. Zach Rosenboom scored 14 for Midland.
Concordia travels to Briar Cliff on Saturday for a key conference contest against the Chargers.