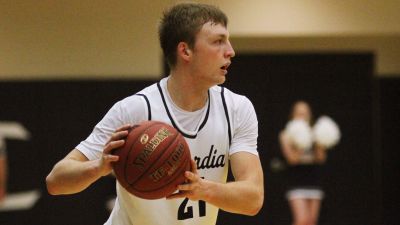 LAWRENCE, Kan. – This looked more like the Concordia University men's basketball team that showed up for the first 15 games of the 2017-18 season. On Wednesday night (Jan. 17), the Bulldogs got right. They shot 64 percent during the first half and turned a nonconference tilt at Haskell Indian Nations University into a 91-65 blowout victory.
Fifth-year head coach Ben Limback's squad ended a three-game skid and moved to 13-6 overall. Concordia has slipped up just one time outside of GPAC action.
"Offensively the ball was moving well," Limback said. "Right away Tanner (Shuck) gets a shot to go. We talked the last few days – all it takes is for one to go in. Don't lose confidence. Just keep playing. I knew this day would come in terms of getting back in a rhythm. I was proud how we also came on the road and defended. In the first half we ran the floor really well and got transition buckets to ignite our offense."
The Bulldogs gave the ball away too many times for Limback's liking, but they got the offensive output they desperately needed in order to regain confidence. Sophomore Tanner Shuck busted out of a slump in a big way, going 6-for-9 from beyond the arc on his way to a game high 26 points. Shuck buried a trey in the opening minute and later converted a four-point play that provided Concordia its first double-digit lead of the evening.
After a disappointing loss four days earlier at Mount Marty, the Bulldogs couldn't afford to take any opponent lightly, nor did they have any desire to take their foot off the gas. Clay Reimers initiated a 10-0 run early in the second half with a 3-point basket. At that point, Concordia led by 23 (58-35) and had full control. Its advantage grew to as many as 31 points during a dominant second half splurge.
Shuck and the rest of the starting group had no difficulty scoring on this particular night. Shuck also grabbed eight rebounds while Reimers contributed 20 points, six rebounds and five assists and Jake Hornick tallied 13 points, seven rebounds and five assists. Collectively, the Bulldogs shot 56.4 percent (31-for-55) from the floor, canned 14-of-31 (.452) 3-point attempts and drained 15-of-17 (.882) tries from the free throw line.
Such efficiency blew away the Indians (5-15), who have come up empty in five contests this season against GPAC opponents. Haskell's Tristan Keah-Tigh dropped 18 points while going 4-for-6 from 3-point range. The Indians shot 36.2 percent as a team. They made only 6-of-28 (.214) heaves from beyond the arc.
Concordia is hopeful it has found its mojo back. Said Limback, "The Mount Marty game was a big wakeup call. There was a lot of frustration and disappointment all in one. We really talked about getting back to focusing on the day-to-day process and not on the outcomes or the standings. We wanted to focus on just getting better. That's the important lesson."
It will be back to conference play on Saturday when the Bulldogs entertain Dordt (10-12, 4-6 GPAC) inside Walz Arena. Tipoff is set for 4 p.m. CT. The two sides met in Sioux Center, Iowa, back on Dec. 2 with the result being an 85-80 Concordia victory behind a 17-point output from Seward native Brevin Sloup.