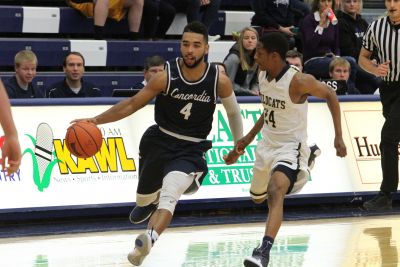 Seventeen-point halftime deficit too much to overcome on road
ORANGE CITY, Iowa – Just like Wednesday's game at No. 8 Midland, the Concordia men's basketball team dug itself a significant early hole. Unlike three days ago, the Bulldogs put together a second half run before Northwestern held on for a 60-56 win at the Bultman Center in Orange City, Iowa, on Saturday afternoon. The strong Red Raider defensive effort sent the Bulldogs (5-13, 2-9 GPAC) to their third-straight defeat.
"I was proud of how our guys responded in the second half," first-year head coach Ben Limback said. "We really played great team defense and Micah (Kohlwey) did a great job on their leading scorer. The last four games, other than the first half against Midland, I think we've figured out that when we guard we can be in any game on our schedule."
Despite trailing by as many as 17 points, Concordia had a chance to tie in the final minute when Robby Thomas elevated for a 3-point attempt. Northwestern (11-8, 4-5 GPAC) corralled the miss and got one of two free throws from Rob Gill with :12.8 left to end all scoring.
The 3-point miss was a reflection of the game as a whole as the Bulldogs were limited to 34.4 percent shooting from the field and 31.6 percent from 3-point range. Thomas finished with 10 points and eight rebounds but he was held to 3-for-16 shooting.
"Offensively we struggled shooting the ball," Limback said. "We did some good things defensively but have to put a whole game together. We've been talking about doing the same things now all season."
After trailing 40-23 at halftime, the Bulldogs hinted that the second half would be different by going on a 10-0 run to get within seven. The spurt was fueled by back-to-back treys delivered by Kohlwey and Joel Haywood. The Red Raiders responded with the next six points to regain a double-digit advantage until Concordia stormed back once again.
Kohlwey and company mounted the rally by holding the Red Raiders to 26.3 percent second half shooting and only one field goal over the final 11 minutes. Kohlwey put the clamps on leading scorer Zack Leeper, who scored 11 of his 17 points in the first half.
Foul trouble became a story again as Haywood and Robby Thomas both went to the bench with four fouls in the second half. Thomas managed to play 30 minutes before fouling out while Haywood put up seven points (all in the second half) in 18 minutes.
Kohlwey, Thomas and freshman Chandler Folkerts tied a team high with 10 points each. Folkerts' inside scoring punch was key in the second half when he posted eight points.
In support of Leeper's 17 points, Jordan Baker put up a double-double with 13 points and 10 rebounds for Northwestern, who has won three-straight games.
The Bulldogs will return to action next Saturday when they host Briar Cliff (13-7, 6-4 GPAC) at 4 p.m. inside Walz Arena. Limback's squad will look to avenge a lopsided loss at Briar Cliff back on Nov. 23. The Chargers upset Midland, 68-66, on Saturday.
The break in the schedule will help a few key players rest up.
"Some guys need a little time to recover," Limback said. "Micah was hobbling a little tonight. He just wasn't himself driving to the basket. Guys like him, Adam (Vogt) and Robby who get a lot of minutes could use some rest. At the same time we've got things to work on and improve on."