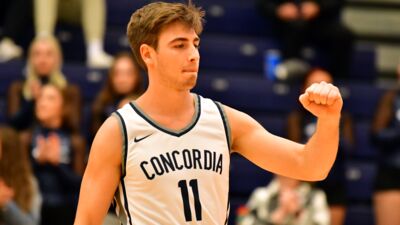 SIOUX CENTER, Iowa – Another test was passed on Saturday (Nov. 19) as the Concordia University Men's Basketball team faced a deficit as large as 12 points at Dordt. The 23rd-ranked Bulldogs didn't flinch and came out of the halftime break as the clear aggressor in what progressed into a win by a comfortable margin, 87-72, in Sioux Center, Iowa. Concordia shot 60 percent from the floor in the second half and made 16-of-18 free throws in the process of pulling away from the Defenders.
Head Coach Ben Limback has led the program to wins at Dordt in back-to-back seasons. The Bulldogs are out to a 5-0 start (3-0 GPAC) with three conference victories that have each come by margins of 15 points or more.
"Our offense was much better in the second half," Limback said. "First half, they were by far the more physical team. We were getting pushed off our spots and settling for three. Thankfully we shot it well enough in the first half to hang in there. We talked about playing tougher and playing more off two feet. I thought Noah Schutte was really good in the second half. Gage Smith had a lot of those free throws at the end and had a lot of great passes. The gutsy, team effort in the second half was fun to watch."
Garrett Seagren knocked down a trey early in the second half and one could begin to feel the game swing in Concordia's favor. As he's known to do, Schutte took over with 17 of his 22 points coming in the second half. He also added nine rebounds and seven assists and did not turn the ball over. There were others that took their turn grabbing the spotlight. In his first career start, Brad Bennett emerged with a trey and then a fastbreak layup on back-to-back possessions as the lead grew to 59-53 midway through the half.
The Bulldogs never looked back. The lead moved into double digits (73-62) at the 3:17 mark when Schutte canned a pair of free throws. Concordia's work from the charity stripe down the stretch gave Dordt no chance for a late rally. The experienced Defenders brought back all five of their all-conference award winners from last season, but it's not easy to hang with the Bulldog frontline.
Gage Smith put up another workmanlike performance in posting 19 points, eight rebounds, two blocks and two steals. Bennett finished with 18 points while netting four treys. In addition, Tristan Smith (10 points and 11 rebounds) notched a double-double before fouling out. The most significant bench contributions came from Joel Baker, who supplied seven points and two assists. On the boards, Concordia had its way again, winning that category, 42-33. It also turned the ball over only eight times.
On the other side, Bryce Coppock did his best to help Dordt (5-2, 0-2 GPAC) attempt to pull the upset. He poured in 22 points on 9-for-15 shooting from the floor. However, the Defenders did not shoot well from the outside (6-for-24) and rattled in the second half when Concordia went on its run. Dordt shot 40.3 percent (25-for-62) overall for the game.
Said Limback, "Any time you play Dordt you're going to get a battle. There were a lot of momentum plays that started with our defense. I'm so proud of our guys to hang in there and have that next man up mentality. This meant a lot. It's great to see guys step up. This was one where we knew there would be adversity at a high level. To finish the way we did, I'm super proud of our effort."
Another battle is coming up Tuesday when the Bulldogs will host No. 5 Jamestown (3-1, 0-1 GPAC) at 6:45 p.m. CT. As part of its special 2021-22 season, Concordia found a way to beat the Jimmies three times, one of which occurred in the GPAC tournament championship game (by a 77-70 score). Jamestown returns GPAC Player of the Year Mason Walters.