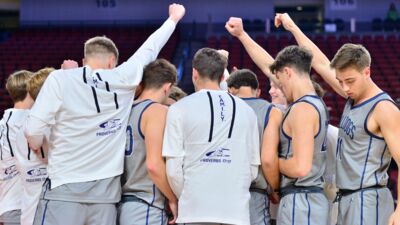 The team that Concordia University Men's Basketball initially put on the court was not quite the same as the one the 2022-23 Bulldogs trotted out post-New Year's Day. Personnel fluctuations made for a sometimes turbulent season that saw Concordia race out to an 8-2 start and No. 19 NAIA national ranking. The record slipped to 11-9 as the Bulldogs were challenged with redefining themselves mid-season. Guided by 10th-year Head Coach Ben Limback, Concordia recovered impressively and ultimately made another national tournament appearance.
In other words, the '22-23 season was thrilling in ways that were different from the unforgettable 2021-22 ride that motored into the NAIA national quarterfinals. The blueprint remained in place for how the Bulldogs can be successful.
"Although we wanted to get further and go to Kansas City and win the league – I told the guys that we faced a lot of adversity this season," Limback said. "Some years you have it when injuries and other things surface. Some years you don't. This year I think we faced our share of adversity. There were some great lessons for our team that we can take moving forward, not only in basketball but in life. I was so proud of how we overcame a lot of those moments and what we were challenged with and still made a nice run and got to the national tournament. Only 64 teams get that opportunity. We came up short (against Oklahoma Wesleyan in the first round of the national tournament), but I was really pleased and proud with how we handled the season."
Of course, any team that can roll out a consistent star like Noah Schutte has a shot in any game. When all pieces to the puzzle were present, the Bulldogs boasted one of the nation's best frontcourts, which also featured fifth-year standout Gage Smith and his younger brother Tristan. Had everything gone as planned, Concordia may very well have made a return trip to Municipal Auditorium in Kansas City. There was no time to sulk when Tristan went down with an injury on Dec. 30. Schutte wouldn't allow the team to come unglued.
The eventual national tournament at-large berth would not have been possible without the turning point that occurred during the week of the Concordia Invitational Tournament. The Bulldogs had lost five of their previous six games, including their most recent outing – a blowout defeat at Northwestern. With CIT MVP Schutte leading the way, CUNE dominated Hastings, Concordia Chicago and Concordia Wisconsin in a week that suddenly gave life to the possibility of a national tournament bid. The Bulldogs went 7-2 during a nine-game stretch (just a couple plays from going 9-0) that was just enough to put them in the field of 64.
There was no doubt about Schutte's trajectory after he was named to the 2022 NAIA Men's Basketball National Championship All-Tournament Team. The Laurel, Neb., native was even better this past season as he averaged 20.1 points and 7.0 rebounds per game and put up eye-popping shooting percentages across the board. One of the lasting memories of 2022-23 will be the awe-inspiring 38-point, 18-rebound effort by Schutte (school record nine 3-point field goals) in the 90-77 GPAC quarterfinal win at Northwestern.
Said Limback, "He went into this year as a marked man and I don't think people understand, when you're the marked man that's a really hard thing because everybody's gameplan is geared around you to start with. He had that kind of pressure and always drew the best defender and double teams, but the team needed him to produce. He wasn't using that as an excuse. He really came on at the end in those back-to-back games at Dakota Wesleyan and Northwestern and had probably one of the best games in Concordia history. We fed off Noah's consistency. I don't know if people understand how hard it is to do that every night. I'm so proud of him, not just statistically but also for his leadership by example. He continues to elevate his game, and I'm thankful he'll be back next year."
As the Bulldogs settled into the second half of the season, the starting lineup most frequently included Schutte and Gage Smith in the frontcourt and Brad Bennett, Garrett Seagren and Jaxon Weyand in the backcourt. The backcourt had to be completely retooled after Concordia graduated multiple-year All-GPAC honorees Carter Kent and Justin Wiersema from the previous season. Collectively, the Bulldogs became the GPAC's best defensive team from a statistical perspective as Gage Smith set the tone with his effort and energy.
Gage returned to the Bulldogs for a fifth year and appeared in his third career national tournament. His presence was an obvious boost to the 2022-23 team. Physically and emotionally matured, Gage was a grown man on the floor. He piled up career totals of 1,355 points, 899 rebounds, 282 assists and 138 steals in 134 games. One of the more special aspects of his career was the opportunity to play his final two seasons alongside brother Tristan. The younger Smith was on his way to a big-time season before suffering a gruesome injury at Science & Arts of Oklahoma on Dec. 30.
"That was a joy and a treat for them to be able to play together," Limback said. "No one works harder than Tristan Smith. He went through a lot physically and also mentally with the daily rehab process. What he accomplished on that stage and producing some important plays – what a way to end. For Gage, the game before that he's in the bathroom with the stomach flu at Jamestown. To get this at-large bid and be able to finish it in a better way was nice to see. That will remain as a special moment to see them out there competing one more time. I know that was a big reason why Gage wanted to come back for his fifth year. It was another family example within our team."
The backcourt figures to be more of a strength in 2023-24 after the experience gained by the likes of Bennett and Weyand in addition to freshmen Zac Kulus and Payson Gillespie. The sharpshooting Bennett averaged 10.8 points per game while Kulus put on a memorable CIT shooting display. Along with another freshman in Logan Wilson, each one of the younger players had their moments.
Over the past few seasons, the program has turned a corner in that it truly believes it will be playing into March each season. That sentiment will carry the Bulldogs into the offseason. The motivation is there for Concordia to contend for another GPAC championship next season.
Said Limback, "Our team last year went to Kansas City. That was the returners' feeling – we have to get back there. We want to make it even further and get to the final four. We started Jaxon and played a lot of freshmen off the bench. We also had sophomores like Brad Bennett play at nationals. It makes you hungry to elevate your game. We're done with our season and we had a freshman wanting to get into the gym during spring break. They're already talking about next season. That makes us coaches excited. I think the team's excited about what we have coming back. We have a dynamite freshman class coming that will continue to push the level of the team. Any time you get a taste of the national tournament, it makes you hungry for those moments. It was a big deal for us to get that opportunity this year."