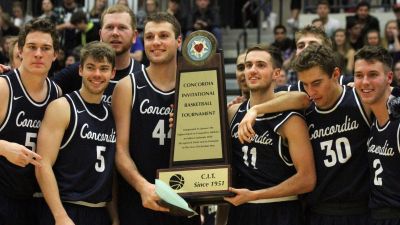 The 2016-17 Concordia men's basketball season provided fans their final opportunity to see Chandler Folkerts own the paint inside Walz Arena. Behind Folkerts, the '16-17 squad broke the program record for highest scoring average in a single season. Its 21 overall wins were the most for the program since the 2004-05 season.
These Bulldogs could flat out shoot it. The interior work of Folkerts coupled with the team's cache of snipers, including senior marksman Eli Ziegler, made for an exciting brand of ball. If not for a tough-luck 2-5 start to league play, the season's final destination may have been in Branson, Mo., site of the NAIA Division II national tournament.
"When you've got an inside game with Chandler I think that opens up some things," Limback said. "Then you have to surround him with some good shooters. I thought this team really bought into each other and the idea of sharing the ball and not forcing things. When your best players are also unselfish players, it snowballs."
Unselfish to the max, Folkerts hogged the spotlight with his game-to-game dominance in the post. Named a second team All-American, Folkerts ended his career with school all-time rankings of second in rebounds (868), third in scoring (1,963) and fourth in blocked shots (142). In perhaps the season's signature moment, Folkerts piled up 37 points and 14 rebounds in an overtime win on the home floor of then seventh-ranked Dakota Wesleyan.
Eventually, you run out of superlatives for a student-athlete capable of filling up a U-Haul solely with the many accolades he's collected throughout his collegiate career. He even has the perfect nickname: The Chanimal.
"I don't think it's sunk in the type of career he's had," Limback said. "He played at a very high level for a number of years. This year I thought he expanded as a leader and you could see that amongst our team. His unselfishness and his work ethic was something he brought every day. I think we'll look back at him as one of the all-time greats here. There's also all the off-court stuff, the academics and his character. It was a spectacular career that he had at Concordia."
Another element that provided hope for a run to the national tournament was the blossoming of Ziegler, who joined Folkerts in the program's 1,000-point club. Ziegler's play skyrocketed to new levels. He wasn't just a shooter anymore. He developed into a player who can break people down off the dribble, attack the rim and also create opportunities for his teammates. Additionally, fellow senior Seth Curran enjoyed his best season while taking over the point guard role.
The Bulldogs really seemed to mesh during their stay in Miami in late December. On the trip, Concordia recorded road wins over Florida Memorial University and St. Thomas University, both nationally-ranked teams. Limback's squad found a groove, going 14-4 over the season's final 18 games after starting 7-6.
The team's fortunes seemed to rise as its group of youngsters learned to fly. Over the last eight games, rookie Clay Reimers averaged 13.4 points and 5.9 rebounds. Against GPAC regular season and postseason champion Briar Cliff, Reimers went off for 22 points and 10 boards. The Lincoln East High School product has a chance to be the next dominant player in Limback's frontcourt.
"I think Clay is one of those guys we could be talking about for years," Limback said. "He has so much talent and so many skills. I don't think he knows yet how good he can be. He really came on at the end. I think he's going to have to provide us a big contribution next year. I think he'll be ready for that as he continues to add strength."
The freshman class also included the likes of Jake Hornick and Tanner Shuck. Hornick was one of the team's better perimeter defenders and gives the Bulldogs a little bit of everything. Meanwhile, Shuck is a pure shooter. He shot 46.3 percent from long range after taking a year away from basketball. The Grand Island native figures to be a more well-rounded scorer with more development. Also in his first season in Seward, Chaminade University transfer Chris Johnstone started 24 games and added additional firepower.
Offense was very rarely an issue, but it took a more focused defensive approach for Concordia to get its season on track. The outlook got a lot sunnier thanks to the trip to Florida.
"You look at Northwestern, both games, and certainly we had some other ones in there that we wish could have gone the other way," Limback said. "What we did down in Florida was a big confidence boost for our team. We were on the road back-to-back games and it was a defensive struggle. We didn't score and shoot as well as we normally have. I think that was one of the first games where we could say that we won because of our defense. Our guys started to see the importance of that end of the floor and carried that over to the rest of the semester."
Though the team's all-conference representatives (Folkerts and Ziegler) depart, there are enough pieces already in place for Concordia to be optimistic about the post-Folkerts era. The biggest question mark is likely at the point without the services of Curran. The good news is that Reimers and Shuck are oozing with potential. Limback also believes the 2017-18 newcomers will factor into the mix.
"We lose some really good seniors and some really good leadership," Limback said. "We have a lot of question marks, but we have a strong group of guys. We don't want that momentum that we built at the end of the year to end. The culture, the work ethic and the buy in is all very important in the offseason. Guys need to use the summer to continue to build on their skills and be ready to go in the fall. I've been very impressed with the hunger they've shown."