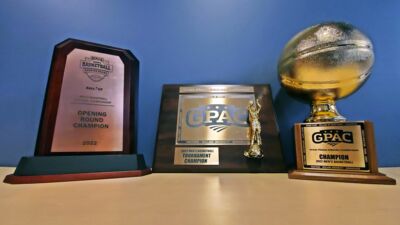 There likely has never been a more incredible month-long story in the history of Concordia University Men's Basketball than the one the 2021-22 Bulldogs authored from Feb. 16 through the end of the season. That stretch featured perhaps the most unbelievable buzzer beater in Friedrich Arena history, three home court stormings, celebrations of GPAC regular season and postseason championships and a run to the quarterfinals of the NAIA Men's Basketball National Championship. Talk about a whirlwind.
Only now can Head Coach Ben Limback's squad take a step back and begin to comprehend all that happened throughout the course of one of the greatest Concordia Men's Basketball seasons ever.
"It was a surreal run," Limback said. "The goals this team set before the season included all of these things, but I'll remember the way this team went about it and how we accomplished it. It was a whirlwind. That Briar Cliff ending where we had to win that game to stay alive in the regular season title race – and to win it in such amazing fashion – gave us a jolt that I think we needed. I don't think any of us were surprised with what this team accomplished this year. It was more about how we accomplished the things we did. That made it even more special. We set goals to go undefeated at home, be the regular season champion, be the tournament champion and at least make the Sweet 16 of the national tournament. They can walk away and check those boxes."
Check. Check. Check. It was a season characterized by reaching heights no one currently inside the program had ever experienced. After feeling the disappointment in how the 2020-21 campaign ended too soon, an experienced and together group came back with a vengeance this winter. Four-year standouts Carter Kent, Gage Smith and Justin Wiersema led the way for a team that also got a major boost from the growth of Noah Schutte. In addition, AJ Watson took to the point guard role and was an X-factor for the Bulldogs, who finished with 28 wins – third most in school history. This is why Ryan Holt and Sam Scarpelli returned for fifth seasons of college hoops.
An eight-game win streak that spilled into the national tournament began with the aforementioned buzzer beater. With Concordia down 73-72 and one second remaining versus Briar Cliff, Kent rifled a full-court alley-oop pass to Tristan Smith for the game winner. The no-way-that-just-happened moment made its way onto ESPN shows such as SportsCenter, College GameDay and Around The Horn and was spotlighted by Barstool Sports. Thanks to the virility of social media, people all over the country shared in the zaniness.
The best basketball was yet to come. While playing each round of the GPAC tournament at home, the Bulldogs cut through Morningside in the quarterfinals, Doane in the semifinals and Jamestown amidst a raucous GPAC championship atmosphere inside Friedrich Arena. At the national tournament, Concordia rolled through the first two rounds in Omaha, defeating Indiana University Northwest, 96-78, and Marian University (Ind.), 90-67.
Under the brightest of lights the NAIA has to offer, the Bulldogs knocked off Indiana University Kokomo, 75-65, in the national round of 16 at historic Municipal Auditorium in downtown Kansas City. Ultimately, the season came to a close with a 77-69 loss coming at the hands of eventual national runner up Talladega College (Ala.) in the quarterfinals. Almost everything Concordia achieved this past winter was a first for the program since the 2004-05 journey to the NAIA Division II national championship game.
Another aspect of the run that made it so special was the connection felt by Bulldog Basketball alums, who felt the memories of their own national tournament experiences rush back to them. Concordia Women's Basketball Head Coach Drew Olson felt that same pride. Olson had played for two national tournament teams under former Head Coach Grant Schmidt.
Said Olson, "I was so pumped and so proud of what the team did. They are role models to my boys. They inspired everyone in this community. I'm so impressed with Coach Limback. What Ben has done over the last five years in turning the program around, I'm impressed and so proud as an alum. I love what he's doing. I love being a part of it and being close to it. It's so fun and I'm so happy for them."
Not since 1991 had Concordia played a national tournament game in Kansas City. At that time, Director of Athletics Devin Smith starred for a squad that made the program's first ever national tournament appearance. The 2021-22 Bulldogs were impressed by Municipal Auditorium and the whole national tournament experience.
"It was awesome," Limback said. "That's what you live for – to be amongst the best of the best at your level. Municipal Auditorium is a beautiful venue. I had never been there before – none of our team had ever been there before. It's just a great sight and a great place to host a national tournament. We were all like kids in a candy store where you just take it all in. Then you get to play basketball again with your team. That's what made it special."
Individually, Kent drew the most attention while putting together an elite senior season that saw him average 15.8 points per game and become the fifth highest scorer (1,699 career points) in program history. Kent was named an NAIA Second Team All-American and a First Team All-GPAC selection. He was joined on the league's first team by teammate Gage Smith while Wiersema landed on the second team. Both Schutte and Watson garnered honorable mention recognition. At the national tournament, Schutte elevated his game to new heights and was named to the National Championship All-Tournament Team.
Saying goodbye to the senior class was an emotional thing for Limback. Said Limback, "This senior class will always have a special place in my heart. They came in their freshman year and they built it from the ground up. We were all able enjoy it together this year. We couldn't have done it without them. I think they have a lot of pride in that. Whether it was a guy like Carter Kent who was a 1,500-point scorer or a guy like Tanner Wubbels who came in as a freshman, and had major surgeries, it was a special group."
In addition to Kent, Smith and Wiersema, the class of four-year student-athletes included Nick Cito, Klay Uher and Tanner Wubbels. In his fifth season in the program, Holt provided veteran leadership and came away with a lasting memory when he drained a buzzer-beating 3-point shot to edge Peru State College early in the season. Off the bench, Scarpelli always brought energy and the ability to knock down perimeter shots.
With so many seniors and super seniors set to move on, there will be opportunities for others to emerge in 2022-23. Schutte and Watson will surely take on even larger roles while Bulldog fans should also expect to see more of Chaminade University transfer Garrett Seagren and the high-flying Tristan Smith. Limback and his staff, which added Ryan Tegtmeier this past season, believe they have a recruiting class coming in that will help fortify the roster.
Another national tournament appearance will be the goal, but all future teams will be hard-pressed to duplicate the Christian character, togetherness and thrilling moments that are now synonymous with the 2021-22 Bulldogs.
Said Limback, "We're going to remember more than the trophies and the banners or individual accomplishments. More than that, it was about the relationships, the brotherhood and the memories we're going to have forever. It's not about the destination. It's about the journey you go on during these seasons. It's the people you're on the journey with that you're going to forever remember. All of us are exhausted, but just so blessed and thankful for everything we've been able to be a part of. I'm going to miss these guys who are moving on. I think we all sense that now – is this really done? We had a bonus month of basketball and were able to play in front of amazing crowds. I'm just so humbled. There's a surreal feeling to the end of the season. We're just so grateful for it."