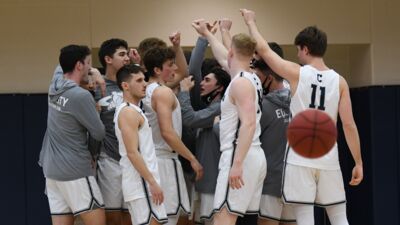 While the Concordia University Men's Basketball program fell short of its goal of returning to the national tournament in back-to-back seasons, the 2020-21 Bulldogs proved they could beat anyone in the GPAC. After playing the very last NAIA Division II national tournament game ever (March 12, 2020), Concordia resumed action in late October and proceeded to navigate a relatively normal season, considering the circumstances caused by COVID-19. The likes of Carter Kent, Gage Smith and Justin Wiersema powered the Bulldogs to a tie for third in the GPAC regular season standings.
Under Head Coach Ben Limback, the program has progressed to a healthy position of expecting to be a top four team in the GPAC. Concordia's ability to remain in the thick of things as one of the league's upper tier teams, despite significant personnel losses, says a lot.
"The consistency of those three guys (Carter, Gage and Justin) really helped us win 14 league games and tie for third in the league," Limback said. "We don't do that without having special players play at a high level. They did that for us throughout the year. When all three were clicking on all cylinders, we were really, really tough to beat. They are in for special senior years (in 2021-22) and they're already hungry. They are talking about next year and what they want to accomplish. We also have some other guys who might be ready to take that Gage Smith type of leap."
The Bulldogs finished the season at 17-9 overall. Their 14 GPAC wins equaled a school record for most conference victories in a single season. Concordia certainly did click when playing at Friedrich Arena, where it defeated eight GPAC opponents by double-digit margins. As a sign of the team's potential, the Bulldogs swept the regular season series from GPAC postseason champion Northwestern, which earned the No. 9 overall seed in the national tournament.
Somehow, Concordia's postseason fate always seems to depend upon having to win at the Corn Palace. That venue will be remembered by many within the program for the GPAC title celebration that occurred there in 2020, but it was not to be this year. The fifth-seeded Bulldogs struggled mightily on the offensive end and fell at Dakota Wesleyan in the GPAC quarterfinals. It marked the fifth time Concordia has played at Dakota Wesleyan in the GPAC tournament in Limback's eight years leading his alma mater.
"In other years we may have gotten a higher seed (in the GPAC tournament)," Limback said. "There is great depth in the league this year. The eighth seed (Mount Marty) made it to the championship game. It just shows the strength of our league. There are no gimmes. We certainly have to get better and tougher. We have to be able to win those types of games on the road."
Despite the quick postseason exit, the Bulldogs have plenty to build upon from this past winter. Wiersema and Smith made quantum leaps forward in their junior campaigns. Both players give opponents fits with their nonstop motors. The team appears to feed off of the energy of Wiersema, who averaged 16.4 points and shot 55.6 percent from the floor this season. He was one of only two GPAC players to score in double figures in every game this season. Limback knew what to expect from Wiersema every time out.
Smith may have been one of the biggest surprises in the entire GPAC. He went from averaging 4.7 points and 4.5 rebounds as a sophomore to averages of 13.9 points and 9.2 rebounds as a junior.
Said Limback, "The consistency throughout the year was much improved for Gage. He really came into his own and started to figure out what he could do inside, especially offensively. He always was a solid shooter and perimeter player, but he put on size and strength and worked really hard. He added that inside part to his game. He's only going to get better. He goes hard every day. It was fun to see his work and his passion come to a head this year."
In mid-January, Kent moved past 1,000 career points by pouring in a career best 29 points in the win at Mount Marty. The Crete High School product averaged a career best of 15.2 points per game while shooting 40.4 percent from the floor. The trio of Kent, Smith and Wiersema were joined in the starting lineup by seniors in point guard Sam Scarpelli and forward Ryan Holt. Both players could end up returning in 2021-22 to use the extra year of eligibility granted by the NAIA.
Scarpelli supplied a confident presence in the backcourt while Holt is a gritty veteran who can do a little bit of everything. The 2020-21 team also got key contributions from its bench performers such as AJ Watson, Klay Uher, Cory Davila, Grant Wragge and Jackson Hirschfeld. Limback believes many of those names will be capable of taking on larger roles in the future. Watson was always good for energy off the bench and Davila possesses intriguing post skills. Wragge and Thomas Young were members of a senior class that helped grow the program over four years. Wragge left a lasting impression with his emphatic alley-oop slam in the finale of the regular season.
The freshman class included Davila and Noah Schutte, another name to watch moving forward. Schutte showcased his athleticism on multiple occasions with monstrous dunks. The rookie group had time to learn and develop behind talented veterans this season.
On paper, Concordia projects as a strong national tournament contender a year from now. That most certainly will be the goal for Kent, Wiersema and company who weren't too happy about missing out this March. Still, the Bulldogs have a lot to be thankful for when it comes to a 2020-21 season that saw them play a fairly complete regular season (other than the cancellation of CIT) and create lasting memories. Some other programs around the country did not have the same opportunities.
"We're very blessed," Limback said. "If you told us four months ago we would play 26 games, win 14 league games and finish tied for third, I think we would all have taken that. God is good and we are very thankful to have had the season we did have."