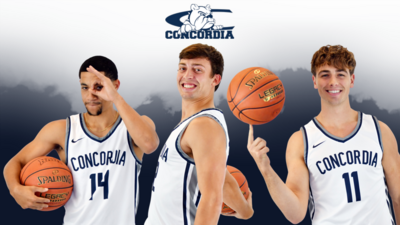 2021-22 Record: 28-7 overall, 15-5 GPAC (T-1st); won GPAC regular season and tournament titles and advanced to the NAIA national quarterfinals.
Head Coach: Ben Limback (at CUNE: 164-113, nine years; career: 279-271, 18 years; two national tournaments; three combined GPAC titles)
Returning Starters: F Noah Schutte; F Gage Smith; G AJ Watson.
Other Key Returners: G Garrett Seagren; F Tristan Smith.
Key Losses: F Ryan Holt, G Carter Kent, G Sam Scarpelli; F Klay Uher; G Justin Wiersema.
2021-22 GPAC All-Conference: Carter Kent (First Team); Gage Smith (First Team); Justin Wiersema (Second Team); Noah Schutte (Honorable Mention); AJ Watson (Honorable Mention).
2021-22 NAIA All-American: Carter Kent (Second Team).
Outlook
The 2022-23 Concordia University Men's Basketball team takes on the task of following up one of the greatest seasons in program history. Eight players from the 2021-22 postseason roster return this winter after having experienced the thrills of winning GPAC regular season and tournament championships and a joyride that motored into the NAIA national quarterfinals in Kansas City. The Bulldogs will close the book on that campaign while looking to show they belong on the national radar for more than a single season.
The results are proof of how this program has turned a corner under the direction of Head Coach Ben Limback, who is beginning year 10 leading his alma mater. The past three seasons have seen Concordia go a combined 69-26 with three total GPAC championships and two national tournament berths. Limback and company don't plan on stopping there.
"I think this group is motivated to try to not just repeat last year or to try to do the same things," Limback said. "We want to take it to a new level. They know the challenge ahead. We've talked about what that means and the consistency that goes with that. The goal to win championships and to be part of that national contention again is something this team is hungry for. Any time you get a taste of it, you want to eat more and be a part of more of whatever you experienced. That's no different for this team. You'd rather have that than the rebuilds or whatever. We still have a lot of work to do, certainly at the defensive end and with our consistency and leadership."
Hopes for repeating as GPAC champions will be centered upon what could be one of the nation's best frontcourts. Noah Schutte is back after he rose to stardom while averaging 20.0 points and 9.8 rebounds per game during the team's four 2022 national tournament games. The Laurel, Neb., native will team up with Smith brothers Gage and Tristan (of Elizabeth, Colo.) as part of an uber-athletic frontline. Gage made the decision to return for a fifth year after he earned First Team All-GPAC honors in 2021-22. Not-so-little brother Tristan made waves with his thunderous dunks and as the finisher of the viral alley-oop game winner versus Briar Cliff.
The question marks are more about a backcourt that graduated two past First Team All-GPAC honorees in Carter Kent and Justin Wiersema. They were leaders for a senior class that elevated the program in a big way. Thankfully, starting point guard AJ Watson appears poised for his best season yet. At peak level, Watson is about as good as any point guard in the league. With Watson at the controls, Concordia will again be a team that aspires to get out and run and turn games into track meets.
"Those guys last year, you can't replace them," says Gage Smith of his fellow classmates that have moved on. "They were great players. I'll remember and cherish all the memories we made. I'm very excited about this year. My brother has made huge improvements. That kid is unbelievably athletic. Noah's gotten a lot better. He's stepping into his role. AJ's gotten way better too. I believe we have a really deep bench that a lot of people aren't going to see coming."
Not many people saw coming what Concordia was able to achieve last year. Underrated all season long, the Bulldogs played with an edge to them. The shellacking of 12th-ranked Marian University (Ind.), 90-67, may have been the crown jewel performance of the historic season. Schutte went for 20 points and seven rebounds in that contest. He began the season coming off the bench before bursting onto the scene and averaging 13.9 points and 6.2 rebounds in his second collegiate season.
Gone is Kent, a top five scorer in the history of the program. That means Schutte will demand more attention from the opposition. Limback believes the former Laurel-Concord-Coleridge High School star is up for the challenge.
Says Limback, "Noah's kept building and building. He's always been a very talented player. There are a lot of things he can do. Last year he didn't start early on. He didn't have as big of a role, and at the end of the year, he was one of our best players. That has carried over into this season. He's battle-tested and he knows he's going to be more of a marked man. Last year he might have drawn the fourth or fifth best defender. I think he still has a lot of room to grow, if you can imagine that. He's just that talented. He's also a great teammate."
There may not be a 7-footer on the roster, but the strength and athleticism of Schutte and the Smith brothers is bound to cause problems for opponents. The motor for Gage never stops. His transformation from freshman through his senior year was remarkable. Gage averaged 13.7 points and 7.9 rebounds in 2021-22 and enters this season 36 points shy of 1,000 for his career. Few people within the program would be surprised if Tristan's career takes off on a similar trajectory. He's due for a breakout.
The chance to play one more season alongside Tristan is a major reason why Gage is back. Said Gage, "Down the road when I'm like 80, I don't want to be looking back thinking, I wish I would have played that fifth year. I love the game, so I came back. Also my brother, he's going to be a sophomore this year. You never have another chance like this to play with each other and see what damage you can do."
So who joins Watson in the backcourt? The next most experienced guard on the roster is Garrett Seagren, who played in 33 games last season and did his best work on the defensive end. Other returners like Joel Baker and Brad Bennett have bided their time to have this opportunity for major minutes. A native of Elkhorn, Neb., Bennett has the ability to fill the need Concordia has for a perimeter shooter.
Other returners in the frontcourt include Kelly Vyhnalek, Skyler Woita and Brayson Mueller. Both Vyhnalek and Woita stand at 6-foot-7. Vyhnalek and Woita both found their way into varsity action last season on a limited basis.
Clearly there's room on the varsity roster for members of the freshman class. Limback and his staff are excited about what 6-foot-4 Payson Gillespie out of Westside High School can provide. Gillespie figures to get immediate opportunities to fire away from 3-point range. Bulldog fans should also look out for freshmen Zac Kulus and Logan Wilson.
The overall talent on the roster remains strong. Limback believes that one of the most difficult aspects of replacing last year's senior class is the process of developing new leaders within the team. Says Limback, "That was my biggest concern coming into this season, and even still. I feel like that's something that's underrated with the group last year. We had guys like Carter Kent, All-American, and Justin Wiersema, all-conference, and all the seniors that gave us that consistency of what to expect. We had a camaraderie and trust that had been built for four years. It's something that's hard to replace. There are very capable guys on this team to lead. I feel like AJ Watson has really stepped up in a lot of areas. He's a very vocal and emotional leader. We have a lot of lead-by-example guys, which is great. It's the vocal piece we're trying to get out of them."
It's a new year and a new team. These Bulldogs want to be able to stand on their own merit and not just rest on what happened in 2021-22. There won't be anything easy about trying to repeat as GPAC champions. Some prognosticators on the outside are pegging Mason Walters and Jamestown as the favorite to win the conference this season. No doubt, other conference teams believe they have a shot at holding up the trophy.
"We want to be a team that doesn't live on the past but makes new memories," Limback said. "This is the 99th team in the history of Concordia Men's Basketball. We've been hitting on what we want to accomplish this year with this group. Some of the guys who weren't in a major role last year in terms of on-court minutes, you could see it building this summer. 'This is my chance. This is my opportunity.' We want to carry on the tradition of success from previous years and the things that have been built to this point. Our league's going to be a bear. There are a lot of teams that return pretty much everybody. I don't think we're going to be one of the favorites this year. That edge needs to be there this year. We have a lot to prove this year."
The 2022-23 season will tip off at the 23rd annual Cattle Classic (Nov. 4-5). The Bulldogs will host Tabor College (Kan.) and Ottawa University (Kan.) as part of the event.