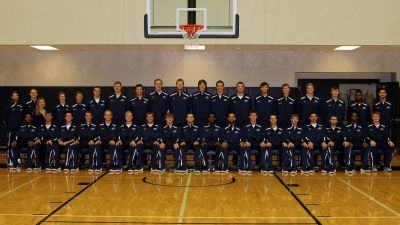 SEASON PREVIEW: 2015-16 men's basketball
By Jake Knabel, Director of Athletic Communications
At a glance
2014-15 Record: 16-15 overall, 9-11 GPAC (T-6th)
Head Coach: Ben Limback (at Concordia: 24-36, 3rd year; career: 139-194, 11 years)
Returning Starters: Chandler Folkerts (Jr.), Micah Kohlwey (Sr.), Robby Thomas (Sr.), Eli Ziegler (Jr.)
Other Key Returners: Justin Damme (Jr.), Rudy Knight (So.), Nathan Toenjes (So.), Max Wegener (Jr.), Kevin White (So.)
Key Losses: Joel Haywood
2014-15 GPAC All-Conference: Chandler Folkerts (first team), Robby Thomas (second team), Joel Haywood (honorable mention)
Season Outlook
Young and inexperienced proved a theme for the Bulldogs during head coach Ben Limback's first season at the helm of the program in 2013-14. That's no longer the case. Concordia returns four starters for 2015-16 and its projected lineup consists of three seniors and a pair of juniors. A team that finished 16-15 last season and gave the top dogs in the conference all they could handle down the stretch says goodbye to just one key player: four-year starter Joel Haywood.
The preseason vibe inside the program is one of anticipation and blossoming confidence. In a short time, Limback has witnessed a change in attitude.
"We've seen a big difference in our guys just in the preseason," Limback said. "There's some optimism. We have everybody back from last year's team except for Joel Haywood. That's where realistically I think we have different expectations going into this year than the previous seasons. That's given us a lot of confidence the way we played down the stretch last year. I thought we were playing some pretty good basketball. The challenge is not to settle for that but to build on that."
Optimism comes in the form first team all-conference performer Chandler Folkerts (15.6 ppg, 7.3 rpg), a bruising 6-foot-8 post, and shot blocking extraordinaire Robby Thomas (13.3 ppg, 6.7 rpg, 2.45 bpg), a 6-foot-7 wing who can step out and shoot. There are also returning starters in the backcourt in sharpshooter Eli Ziegler (8.7 ppg, .447 3-pt FG%) and lockdown stopper Micah Kohlwey (7.7 ppg, .378 3-pt FG%).
Plus Limback has an answer for the departure of Haywood, a member of the program's 1,000-point club. Enter Wayne State College transfer and Ypsilanti, Mich., native Jamie Pearson, a 6-foot-2 point guard who played in 12 games last season as a Wildcat. Pearson will provide minutes at the point and could at times play alongside another transfer in 6-foot-5 guard Kyle Pierce, who joins the program after two years at Northeastern Junior College.
The Bulldogs will have the ability to go a dozen deep if Limback so chooses. A frontcourt loaded with depth includes 6-foot-10 junior Justin Damme (3.4 ppg, 1.9 rpg), 6-foot-7 sophomore Nathan Toenjes (2.2 ppg, 1.8 rpg) and the player Limback calls the team's X-factor, 6-foot-9 junior Max Wegener, who has been sidelined by injury for most of the past two seasons.
The options don't end there. Sophomore guards Rudy Knight (6.9 ppg, .408 3-pt FG%) and Kevin White (3.9 ppg) both saw extensive action last season as rookies and are ready to take a step forward in their development. They are part of a group with plenty of weaponry.
"Looking at all our weapons, the toughest part is going to be how we can get them all to work together in a unit," Thomas said. "I think one thing that helps is we're really close on and off the court. It's really easy to share the ball with guys I love like brothers. I know they feel the same way."
Last season Concordia shared the ball well enough to average 77.5 points per game – the highest figure for the program since the 2003-04 campaign. This year's squad figures to be even more dynamic its inside-outside balance. Folkerts made a name for himself during a three-game stretch last year in which he averaged 25.7 points and 8.0 rebounds and shot 75 percent from the floor on the way to earning national player of the week recognition.
Handling Concordia's multi-skilled frontcourt will be a chore for this season's opponents. Says Limback, "Our frontcourt is extremely big and extremely long. They're working hard. That's what I love about this team, especially our big guys. They come ready to work and ready to compete against each other every day."
Concordia's length is bound to change shots on the other end. Last year Thomas broke a program single-season record with 71 blocks and the Bulldogs ranked sixth among all NAIA Division II teams in rejections.
They also ranked 10th nationally in 3-point field goal percentage (.395). Ziegler shot nearly 45 percent from long distance and provided one of the season's most memorable moments when he nailed a long buzzer-beating trey to lift Concordia to a 76-74 win at Northwestern. Ziegler is one of many players who can fill it up from downtown.
"We should score points," Limback said. "I'm confident of that. Now it's defensively getting guys to buy into the other side of the floor and understand the importance of it. We're not going to score 120 points every night so we have to defend much better than we have in practice. They know that."
One key to better perimeter defense could be the play of Pearson. Now at his third college stop, Pearson will look to make the most of his final season of eligibility.
"Jamie can really do a lot of great things," Limback said. "He's a very, very explosive athlete. He can score it. He can defend. I think he's in for a great season as well. He's going to provide a big lift for us from the point guard position."
For a guy like Thomas who's been in the program since 2012, these are starkly different times for Concordia men's basketball. During the Thomas years, the Bulldogs have gone from six wins in 2012-13 to eight wins in 2013-14 to 16 wins in 2015-16. Another uptick is expected with momentum-building road victories over No. 3 Northwood University and No. 12 Midland still fresh on their minds.
"This season definitely has a different feel to it, especially for the upperclassmen with some of us who have been around for some rough years," Thomas said. "Now this year coming off a winning season we can really build on what we did last year. We're bringing back just about all of our pieces and bringing in some new pieces, too. It's exciting. We feel this is a team that can really do something."
Limback cautions against measuring success simply based upon wins and losses, but his ultimate vision sees the Bulldogs returning to the top of the GPAC and advancing to the national tournament. A number of variables cited by the third-year leader (health, chemistry and coaching) will determine whether this year's squad puts together a special season.
"The expectation is we want to get to that level at the national scene," Limback said. "I think we have the talent and abilities to do it. Now we just have to determine: do we have the effort, attention to detail and the daily grind that we need to see?"
The Bulldogs officially open their season on Saturday (Oct. 31) when they host Johnson & Wales University (Colo.) inside Walz Arena at 12 p.m. CT. The conference season opens up on Nov. 18 with a trip to Hastings.