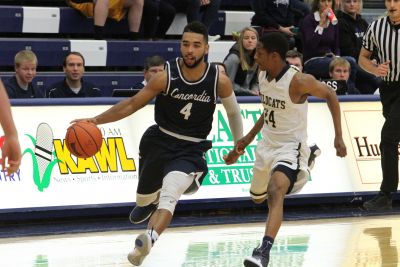 Season preview: 2014-15 men's basketball
By Jake Knabel, Director of Athletic Communications
At a glance
2013-14 Record: 8-21, 3-17 GPAC (10th)
Head Coach: Ben Limback (at Concordia: 8-21, 2nd year; career: 123-179, 10 years)
Returning Starters: Chandler Folkerts (So.), Joel Haywood (Sr.), Micah Kohlwey (Jr.), Robby Thomas (Jr.)
Other Key Returners: Justin Damme (So.), Max Wegener (Jr.), Aaron Walker (So.)
Key Losses: Adam Vogt
2013-14 GPAC All-Conference: Adam Vogt (second team), Chandler Folkerts (honorable mention), Robby Thomas (honorable mention)
Outlook
While last season's record fell short of where second-year head coach Ben Limback wants his Bulldogs to be, important lessons were learned as part of the growing process for a program that basically rebooted itself in 2013-14. Limback's squad tasted success by winning the Concordia Invitational Tournament, but most of the season was spent learning how to compete in the rugged GPAC.
Limback hopes those lessons pay off in terms of better results this time around. Four starters return with second team all-conference selection Adam Vogt the only key piece moving on.
"Last year was definitely a learning experience for all of us, myself included with it being my first year in the GPAC," Limback said. "Adam did a tremendous job last year with a very, very young team. A number of freshmen had to play right away and even sophomores that didn't see a lot of minutes the previous year had to play significant minutes. We didn't meet our expectation by any means, but I do feel that we got something out of the season and something we can build on for this year for sure."
Concordia has some big reasons, literally, to be optimistic about this season. Limback will have the opportunity to go with a long and athletic frontline of sophomore Chandler Folkerts (6-8), junior Robby Thomas (6-7) and redshirt sophomore Max Wegener (6-9) while also sprinkling in 6-foot-10 sophomore Justin Damme and a blend of newcomers.
The real key may be the development of Folkerts, who dominated at times in the paint as a freshman. He shot 62.2 percent from the field and averaged 11.2 points as part of a solid first season. The post from Milford, Neb., may soon be ready to claim a spot among the top frontcourt players in the GPAC. Limback has been impressed by Folkerts' increased willingness to attack the basket with authority.
"We're expecting big things out of Chandler," Limback said. "He's a very unselfish kid. He works extremely hard. He's talking more this year which is great to see. He knows that we really want him to be more selfish in the post. We want him to be more available in there. His body type, his athleticism – he's made some big improvements from last year. He's dunking like crazy right now in practice and a lot of it's his mindset and aggressiveness."
Thomas made a big leap forward while playing more than 30 minutes per game as a sophomore. He established himself as a terrific shot blocker (52 blocks) while posting 11.3 points and 7.0 rebounds per game.
The tall and lean combo of Thomas and Wegener (only three games in 2013-14 due to ACL tear) could be a real pain for opponents. Wegener totaled 39 points and 19 rebounds over the first two games of 2013-14 before going down with an injury in last season's home opener.
"Robby is coming on," Limback said. "You can see the confidence is much different this year than it was in the beginning of last year. I think he knows what to expect. We call Robbie a difference maker.
"As far as Max, you don't know what to expect after an injury," Limback said. "But his talent level and ability are there. He can shoot it and he's skilled for a 6-9 guy. He'll add some depth and definitely some scoring and rebounding for us this year."
While the frontcourt is a unit with exciting potential, the most experience comes from the backcourt in the form of versatile 6-foot-4 senior guard Joel Haywood. The 2011-12 co-GPAC newcomer of the year has played in 78 games over the past three seasons, amassing 723 points. Haywood is comfortable playing the point or off the ball in Limback's motion offense.
"I like both of them," Haywood said. "We have a couple of young point guards who will definitely contribute and help us out. I might be seeing a little more 2 (guard) but I'll definitely be playing the 1 as well."
Having played for head coaches Grant Schmidt as a freshman and Marty Kohlwey (now the top assistant) as a sophomore, Haywood likes the direction of the program that now has more stability with a second-straight year under the same leader.
"It's nice to have the same coach two years in a row," Haywood said. "It seems like that's something people take for granted. I've gotten to develop my relationship with Coach Limback and get used to how he wants things done and how we can work together. It's been really nice to have him a couple years back-to-back."
The other significant returners in the backcourt include junior defensive stopper Micah Kohlwey (7.6 ppg, 79.2 FT%), budding sophomore Aaron Walker (3.9 ppg) and sharpshooting sophomore Eli Ziegler (44.2 3-pt%). Kohlwey started 18 games last season and will figure into the mix along with Haywood.
The backcourt will also look to newcomers as part of the rotation. Chicago-area native Kevin White (6-1) may get a crack at the point guard role while Rudy Knight (5-11) of Katy, Texas, is another freshman who has impressed during preseason practice.
"Kevin White is very talented and can get the ball up and down," Limback said. "He's very unselfish but he can also score. Rudy Knight is extremely quick. He changes the game defensively on the ball. He can push it. He's still adjusting to the speed and decision-making of the game, but I think he's going to help us this year as well."
Several other freshmen have a shot to contribute. Foremost among that group is 6-foot-2 freshman Reilly Carew (Castles Pines, Colo.), another backcourt option. Limback also likes what he has in rookies Nathan Toenjes (6-7, Green Bay, Wis.) and Dillon Harms (6-4, North Branch, Minn.).
The new group brings winning high school pedigrees to Walz Arena. Says Limback, "To have guys with experience winning and know what it takes to win at a high level should translate eventually to college."
Preseason practice has revealed an obvious elevated level of overall talent and experience within the program. Naturally, familiarity and comfort levels are rising with much less upheaval occurring over the past season. Limback hopes that continuity will breed success for a program seeking its first winning season since 2010-11.
"We were just talking as a coaching staff the other day how this year just feels like we're further along than we were the first year," Limback said. "I've been pleased with our progress. We still have a ways to go, especially defensively. I like the attitude of our returners and what their mindset is towards helping the new guys along because we'll be counting on some of those new faces. Having four starters back in a league like this is going to be great. There are some new faces that will be pushing those guys."
Haywood, who came to Concordia with plenty of acclaim out of Denver's Parker Lutheran High School, wants to ensure that his career ends with his best season yet. He is confident the Bulldogs will be much improved despite its preseason placement of eighth in the GPAC poll.
"I don't know if it's an under-the-radar thing, it's more of a chip on the shoulder," Haywood said. "We take that as why not given everything we have? We can make something out of this season and make the most out of it. I think that's what is motivating us."
Limback's squad opens the season on Friday, Oct. 31 at Kansas Wesleyan (7 p.m.). The Bulldogs remain in the state of Kansas to take on Bethel College the following day.