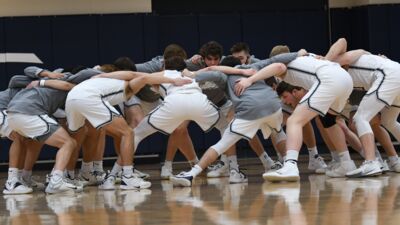 MITCHELL, S.D. – Hopes of repeating last year's GPAC tournament championship run ended abruptly on Wednesday (Feb. 24). Instead of jubilation at the Corn Palace, the Concordia University Men's Basketball team walked away somberly after a 70-58 defeat in the quarterfinals of the GPAC tournament. Fourth-seeded Dakota Wesleyan's rugged man-to-man defense got the best of the Bulldogs.
What hurts right now for Head Coach Ben Limback's squad is the feeling that this team had the ability to make some noise in the postseason. Instead, Concordia concluded the 2020-21 season at 17-9 overall.
"When the dust settles you look at the entire season the body of work, tying the program record for most wins in the league (with 14)," Limback said. "It was just a fun team to coach. Unfortunately it came to an end too soon, but I'm thankful we had the season we did."
The offensive production was not there like it was three weeks earlier when the Bulldogs had their way with DWU at home. Concordia actually started Wednesday's game by going 3-for-6 from 3-point range while leading 15-11 in the opening half. The offense stagnated from that point on and the Tigers won the night in the hustle department. They outrebounded the Bulldogs, 37-28.
Star guard Nick Harden (game high 19 points) and his teammates took all the suspense out of the second half. DWU's 14-4 run after halftime pushed a six-point lead to a 16-point spread (49-33). The lead grew as large as 24 when Sawyer Shultz poured in a trey with less than four minutes remaining. The Tigers shot 44.4 percent overall (9-for-21 from 3-point range), which was plenty good enough while holding Concordia to a 37.0 percent clip.
"They got a lot of 50-50 balls throughout the game," Limback said. "I thought they outhustled us in a lot of ways. Offensively we just didn't get into a good rhythm. Early on I thought the ball was moving pretty well. They're really good defensively one-on-one and we didn't handle it very well. We tried to go one-on-one too much. A lot of credit goes to them. They did a great job limiting our attacks to the basket. At that point you're living and dying by the three."
The Bulldog top three scorers of Justin Wiersema, Carter Kent and Gage Smith entered the night combining to average 45.9 points per game. They were held to a collective total of 37 (12-for-33 shooting) on Wednesday. Wiersema and Kent paced the team with 13 points apiece. Wiersema scored in double figures in all 26 games this season (and in 28 straight dating back to last season).
It's difficult to think about next season in the immediate aftermath of the loss, but the 2021-22 campaign looks promising for Concordia. Smith became a star in his first season as a starter while growth was shown across the board.
"I felt like we had a lot of guys step up this year," Limback said. "Gage certainly was a huge one. That's got to be our mindset going into next year. We really played well at home and saw guys improve individually and collectively as a team. I felt like Justin went up another notch this year and so many guys came on. I'm really proud of these seniors. It's disappointing right now, but there are a lot of bright spots."
Dakota Wesleyan (19-7) is no stranger to postseason success having qualified for the national tournament in six-straight seasons. Koln Oppold (14 points and eight rebounds) and Jeffrey Schuch (11 points and 12 rebounds) joined Harden as double-figure scorers.
The GPAC will be rewarded with two automatic berths to the national tournament. Morningside earned one of them as regular season champion while the other is up for grabs. The Mustangs were upset by Mount Marty in the quarterfinals on Wednesday.