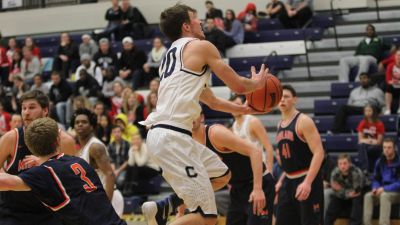 MITCHELL, S.D. – For the second-straight season, the Concordia University men's basketball team has watched its season end at the Corn Palace in Mitchell, S.D. Host and 18th-ranked Dakota Wesleyan bounced the sixth-seeded Bulldogs from the GPAC tournament by way of a 90-82 final in Wednesday night's quarterfinal tilt.
The national runner up last season, the third-seeded Tigers (22-9) have had Concordia's number, winning each of the last 10 meetings between the two sides. Third-year head coach Ben Limback's squad ends its season with an overall record of 18-12. On the other hand, Dakota Wesleyan will meet second-seeded Nebraska Wesleyan in the conference semifinals on Saturday.
"The start of our second half allowed them to build a lead and against a team that can score – you can't spot them like that," Limback said. "We came out with too many turnovers and bad shots that led to points on their end. They're a high-scoring team and we didn't have an answer for (Jade) Miller or (Trae) Bergh in the first half.
"I'm just proud of these guys for fighting. I'm proud of the four seniors. We're going to miss them."
Concordia showed its mettle with a late offensive flurry that cut what had been a 17-point deficit all the way down to six. Jamie Pearson misfired on a trey in the final 30 seconds that would have slashed Dakota Wesleyan's lead to just three. Instead, Miller tracked down the rebound and then made a pair of free throws to ice the game with 19 seconds left.
On their defensive end the Tigers effectively limited Chandler Folkerts, who enjoyed a monster junior season, to 11 points on only seven shots from the field. On the other end, DWU point guard Tate Martin dropped 10 dimes while setting up the likes of Miller (27 points, eight rebounds) and Bergh (23 points).
Miller and Bergh helped bury Concordia into a 17-point hole thanks in part to a cold second-half start. The Bulldogs opened up the half 1-for-9 from the field. But slowly the Bulldogs got back into it by mounting a 7-0 run that got them within 10 (72-62) with just under seven minutes remaining. Late triples on back-to-back possessions from Robby Thomas and Micah Kohlwey made it a six-point deficit in the closing minute – just too little, too late.
Pearson (7-for-23 shooting) topped the Bulldogs with 15 points and seven assists. Kohlwey and Max Wegener put up a dozen apiece. In his final collegiate game, Thomas posted a line of nine points, six rebounds and four assists.
Thomas ended his career ranked among the top 20 on the program's all-time lists in four key categories: points (19th; 1,170), rebounds (eighth; 645), blocks (first; 204) and assists (13th, 226). Thomas is one of three senior starters who are set to graduate. The others are Kohlwey and Pearson.
The 2015-16 season marked another step up following records of 16-15 in 2014-15 and 8-21 in 2013-14. This year's Bulldogs were the third-highest scoring team in program history, finishing the season with a scoring average of 85.8. Folkerts will be the centerpiece for the 2016-17 squad. He completed his junior year with averages of 19.6 points and 8.5 rebounds to go with a 66.6 shooting percentage.
"We have a lot of juniors and sophomores that I feel like have done some growing up," Limback said. "That's what we have to build on for next season. The expectations for this team are high. We have to do the little things in the offseason to prepare for those expectations. We'll miss the seniors no doubt, but I know there is a group of guys who are hungry to improve and see what good things are in store for next year."