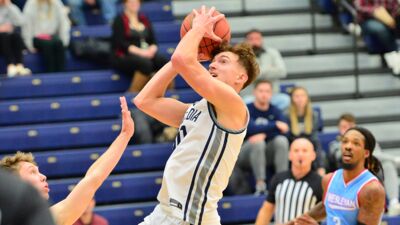 JAMESTOWN, N.D. – There were many moments during which the Concordia University Men's Basketball team appeared dead in the water on Saturday (Jan. 14) in Jamestown, N.D. But the Bulldogs showed high character in frantically rallying in the final minutes behind starring performances from Gage Smith and Garrett Seagren. Mason Walters and the 14th-ranked Jimmies ultimately held off Concordia, 69-64. The Bulldogs got within three points after trailing by as many as 19.
Head Coach Ben Limback's squad had been idle since defeating Dakota Wesleyan, 78-69, last Saturday. Concordia now stands at 11-7 overall (7-5 GPAC).
"They're a really, really good basketball team," Limback said of Jamestown. "We struggled at both ends in the first half. Defensively, we were giving up a lot of easy stuff. They were attacking us and we could never get them on their heels. Their pressure in the first half disrupted us – we just couldn't settle in. We switched to zone and we started to get them to think twice about shooting and got into a little bit of a rhythm offensively. We weren't good enough to beat these guys, but I was proud of our effort and heart."
The Bulldogs won all three series matchups in 2021-22, but Jamestown has flipped the script this 2022-23 season. The Jimmies had seemingly put the latest matchup in a vice grip before Seagren and his teammates came alive down the stretch. Trailing 66-54 with fewer than 3:30 left to go, the Bulldogs mounted a 10-1 run that got them within three (67-64) in the final minute. The spurt included seven points from the suddenly unstoppable Seagren. A layup by Reid Gastner in the closing 30 seconds was enough for the Jimmies to seal the game.
An Oakland, Neb., native and Chaminade University transfer, Seagren filled it up with a career high 18 points. He attacked the basket with the type of vigor that should give him confidence moving forward. On the interior, Gage Smith followed up his monster game versus DWU with 19 points and eight rebounds before fouling out late in the game. Gage and Noah Schutte had both been whistled with three fouls by the 14:21 mark of the second half. Schutte was limited to four points on 2-for-10 shooting from the floor. Meanwhile, Brad Bennett chipped in nine points, seven rebounds and three steals and Kelly Vyhnalek led the reserves with five points.
Said Limback, "We had some great moments there and made it interesting. They're just too good for us to get down 19 and be able to come back. It was nice to see that from Garrett. He's got the ability and I think he gained some confidence, so that's what we took away. Our leading scorers maybe didn't play their best and we hung with one of the top teams in the country."
Walters actually finished well below his scoring average while putting up 18 points and 11 rebounds on Saturday. He was equaled in scoring by teammate Cole Woodford, who made 4-of-8 attempts from long range. No other Jimmies registered in double figures. Jamestown (15-3, 7-3 GPAC) shot 45.3 percent (24-for-53) overall and held a slight rebound advantage, 33-31. On the other end, Concordia shot 43.9 percent (25-for-57) from the field. Jamestown led by a 41-22 score late in the first half and held an advantage as large as 17 points in the second half.
The Bulldogs will be back inside the friendly confines of Friedrich Arena on Wednesday for a 7:45 p.m. CT matchup with No. 20 Morningside (14-3, 8-2 GPAC). Concordia will look to avenge its 69-62 loss on the home court of the Mustangs on Nov. 30. The Bulldogs are 27-1 over their past 28 home games.