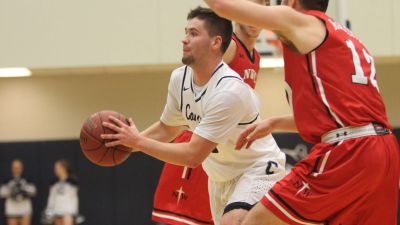 2018-19 Men's Basketball Schedule | PDF
SEWARD, Neb. – The schedule has been finalized for what will be Ben Limback's sixth season as head coach of Bulldog men's basketball. Concordia will open up the new campaign on Oct. 29 by hosting Kansas Wesleyan University. The first three contests of the 2018-19 season will take place within the friendly confines of Walz Arena. That run will include the 19th annual Cattle Classic.
With the addition of the University of Jamestown to the league in 2018-19, the conference schedule has ramped back up to 20 games for the first time since 2015-16. The Bulldogs are set to open up league play at Midland on Nov. 6. They will get their first look at the Jimmies as conference foes on Nov. 17 in a battle that will be staged in Seward. After playing 11 times at home in 2017-18, Concordia is slated to take the court inside Walz for 14 games this coming winter.
The nonconference slate is highlighted again by the annual Concordia Invitational Tournament as well as a pre-New Year's trip to Phoenix for a pair of games at the Arizona Christian Classic, where the Bulldogs will take on host Arizona Christian University and MacEwan University of Canada. On paper, the most challenging opponent outside of conference play will be St. Thomas University (Fla.), which will be in town for the Cattle Classic. The Bobcats reached the second round of the 2018 NAIA Division II national tournament. Also in nonconference action, Concordia will play in-state foes Nebraska Christian College and Peru State College.
Conference tournament dates are set for Feb. 20 (quarterfinals), Feb. 23 (semifinals) and Feb. 26 (championship). The Bulldogs are hoping to snap a drought in terms of postseason success. The program's most experienced returnee will be junior Tanner Shuck, who has totaled 705 points and 152 3-point field goals over his first 61 games in a Concordia uniform. Seward native Brevin Sloup also has two years of college experience under his belt. Limback, who hit the transfer market after the 2017-18 season, will have a different looking squad that experienced summer departures.
The NAIA Division II national championships will again take place at the Sanford Pentagon in Sioux Falls, S.D., for the second year in a row. The dates for 2019 are March 6-12.
2018-19 nonconference foes
*2017-18 record in parentheses

Arizona Christian University (15-13)
Barclay College (Kan.)
Concordia University, Wisconsin (15-12)
Concordia University, Ann Arbor (12-18) / Concordia University, Chicago (2-23)
Kansas Wesleyan University (Kan.) (16-13)
MacEwan University (Canada) (5-16)
Nebraska Christian College (17-11)
Peru State College (Neb.) (22-14)
St. Thomas University (Fla.) (23-8)
Waldorf University (Iowa) (13-16)