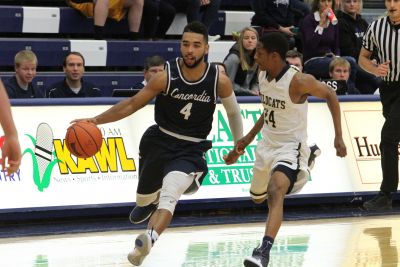 Rules tweaks set to impact men's hoops in 2015-16
SEWARD, Neb. – A series of rules changes will affect all levels of collegiate men's basketball, beginning with this coming 2015-16 season. The most obvious alteration is the shortening of the shot clock from 35 to 30 seconds. Such changes were instituted by the NCAA and adopted by the NAIA. Below is a rundown of the most pertinent rules changes for 2015-16. To view a more detailed breakdown, click HERE.
Men's basketball rules changes:
Shot clock: Reduced from 35 seconds to 30.
Timeouts – granted and charged: Coaches are now permitted to call timeouts during dead ball situations only. In addition, the number of 30-second timeouts available to each team has been reduced from four to three. Only two carry over to the second half. Teams will still be awarded two full timeouts (60 seconds).
Closely guarded: The five-second closely guarded count on a dribble has been removed.
Post defense: Defenders are now allowed to place a forearm or open hand with a bend in the elbow on an offensive post player with the ball whose back is to the basket.
10-second backcourt exceptions: Beginning this season, a team will not receive a 10-second backcourt violation under the following circumstances:

When the ball is deflected out of bounds by the defense.
When there is a held ball and the possession arrow favors the offensive team.
When a technical foul is called on the offensive team while the ball is in the backcourt.

Restricted area arc: Expanded from three feet to four feet.
Reduction of physicality: The Men's Basketball Rules Committee issued a directive to reduce physicality in order to create freedom of movement specifically in the following areas:

Hand checking/body bumping the ball handler.
Physical post play and rebounding.
Freedom of movement for players without the ball (cutters).
Screening – stationary screens required.
Offense initiated contact with legal defenders.

Dunking: Removed the prohibition against dunking while the ball is dead. Teams will be allowed to dunk during pregame and halftime.
Considering nine of 11 GPAC men's basketball teams ranked among the top 50 out of all 152 NAIA Division II teams in scoring, the 30-second shot clock rule may have only minor effects on the league. The Bulldogs again plan to go up tempo a season after posting the highest scoring average for the program since the 2003-04 campaign.
"There are a few teams in our league I think it will effect," Limback said. "For the most part, we look to push it. It really shouldn't affect the game a lot at our level in our league. Some teams I think it will effect more than others. It is already a pretty high-scoring league and it could go up from here."
Concordia has simulated the 30-second shot clock during preseason practice. Limback believes his team will respond just fine to the change. Says the third-year head coach, "The shot clock will speed the game up a little bit and force more decisions to be made. We have to practice that way. We have to have a shot clock so we've been using a 30-second shot clock in practice and really educating our guys on how to play at the end of the shot clock both offensively and defensively because it will happen a little more. That's been an important one."
In a new twist that will make the game more fan friendly, the rules committee abolished the former stipulation that prohibited dunking during pregame and halftime warmups. But don't expect the Bulldogs to go all Harlem Globetrotters in such instances.
"Maybe we'll get Coach (Antoine) Young out there and he can do a couple dunks before the game for the crowd," Limback joked. "That is just a fun fan one. It's been time to get rid of that rule. That will be fun for the fans."
Limback's Bulldogs tip off the 2015-16 season on Halloween when Johnson & Wales University (Colo.) makes a visit to Walz Arena.