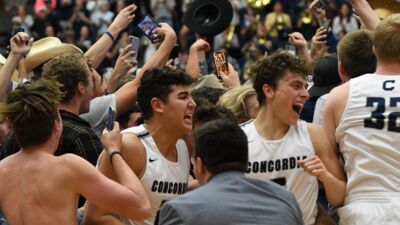 VIDEO: Concordia Men's Basketball 'One Shining Moment'
While the dust settled on the final home game of the 2021-22 Concordia Men's Basketball season, Carter Kent couldn't hide a wide grin as he fashioned the Friedrich Arena net around his neck. Kent had just emerged from yet another celebratory mob of court-storming fans in a scene fitting for a team that, moments earlier, captured the GPAC tournament championship with a victory over Jamestown. Every time you thought the season could not possibly get any better or wild, it did.
As Kent told a Lincoln TV reporter at that moment, "It's so awesome. It's been three times now in like two weeks (that the fans have rushed the court). I never get bored of it. That's what college basketball's all about. We work all year for this. I'm so proud of these guys. We've gone through so much adversity throughout the season. It's definitely been a rollercoaster ride. It feels good to see it through."
Court stormings became the norm during a zany stretch that included Kent's length-of-the-court alley-oop to Tristan Smith for a game-winning layup that edged Briar Cliff, 74-73, on Feb. 16. That play began an exhilarating eight-game win streak that carried the Bulldogs all way to the quarterfinals of the 2022 NAIA Men's Basketball National Championship. Head Coach Ben Limback's squad became the talk of campus, alums and national sports shows like SportsCenter and Around the Horn. The 2021-22 team became the first in program history to win the GPAC regular season title while capturing the hearts and minds of those who were drawn to Friedrich Arena.
(Story continued in above PDF).