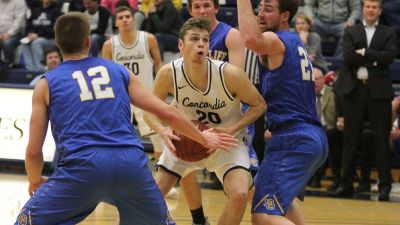 Youthful, inexperienced and without stars Chandler Folkerts and Eli Ziegler, the 2017-18 Concordia men's basketball team entered the winter expected by outsiders to be among the bottom feeders in the GPAC. Considering the lack of proven commodities on the roster, head coach Ben Limback anticipated tepid buzz for a team featuring just one senior.
But a squad of four new starters found itself at 12-3 overall on Jan. 3 when Cordell Gillingham's shot at the buzzer toppled Doane in overtime. The Bulldogs were 5-2 in conference play and had just come off a strong road trip in the Windy City. They were the surprise of the GPAC at that point.
"The loss of those seniors was a big deal," Limback said. "It was a driving force for our guys that they wanted to show people what they could do. Outside of our locker room there was not much expectation but inside our locker room I thought there was a lot of hunger. A lot of guys stuck around this past summer and that investment paid off. Guys like Kyle Pierce and Cordell Gillingham stood out for their improvement."
The back half of the season was not as kind. Concordia went 5-10 over its final 15 games and finished at 17-13 overall while nestled in sixth place in the GPAC standings. There were moments of brilliance. The Bulldogs put forth arguably their best performance all season at Hastings on Jan. 24. They ambushed the Broncos by shooting 65.6 percent in the first half on the way to a 93-83 road victory. It included a signature performance from senior Kyle Pierce, who rattled off 21 points and 10 rebounds.
Concordia had a legitimate feeling that it could win each time it stepped out on the court thanks to the rise of the sophomore class made up of starters in Gillingham, Jake Hornick, Clay Reimers and Tanner Shuck. Seven sophomores averaged more than 10 minutes per game. Gillingham went from the end of the bench as a freshman to one of the team's most dependable performers as a sophomore. Meanwhile, Hornick and Reimers showed glimpses of star power.
A strong case could be made that the 6-foot-8 Reimers has already reached stardom. He averaged 15.6 points and led the GPAC with 8.6 rebounds per game. He even earned an NAIA Division II national player of the week award after back-to-back 26-point outings in Chicago just before New Year's. Reimers fits in with the trend of big guys who can shoot it and also defend in space.
Says Limback, "Clay is one of those unique players where he can handle it. He can shoot it. He can post up. Then defensively he has the ability to guard a lot of positions. His biggest thing is just bullet proofing his body and putting on weight through strength and conditioning. He has goals and he's working hard to reach them. I think he's going to take another step in terms of his development next year."
Hornick, a second team all-conference choice along with Reimers, shouldered a larger role than any Bulldog this season. While adjusting to a new role as the point guard, Hornick averaged a team high 33.7 minutes per game. He was also asked to score a lot more in his second year. In the win at Robert Morris (Ill.), Hornick exploded for a career high 30 points.
The sophomore group also consisted of Shuck, the team's top sharpshooter (78 3-point field goals), and role players off the bench in Zach Friel, Brevin Sloup and Riley Tegtmeier. Without the class' growth as a whole, Concordia would not have been knocking on the door of the top 25 poll as it was in early January.
"You never know exactly how a guy is going to develop year to year," Limback said. "You certainly have an idea of a guy is going to be a great player in this league. You look at a guy like Jake Hornick who played a lot as a freshman, but offensively he didn't do a lot. His sophomore year he takes off and does some amazing things that I didn't expect. He's just a competitor. This class is just going to continue to develop and grow."
Such growth will be needed in order for the Bulldogs to hunt down the signature wins that eluded them this winter. It was a rare year in which Concordia failed to knock off a nationally-ranked foe. The Bulldogs ended their season by losing five of their last six with each of those defeats coming against GPAC opponents that reached the national tournament. For the fourth year in a row, Concordia ended its season with a road loss in the GPAC quarterfinals.
Limback put together a 2016-17 team that had the capability of reaching the national stage. It fell short despite an All-American season from Folkerts that rates as one of the best ever by a Bulldog. Limback is hoping Hornick and Reimers will be the backbone of the program's first national qualifier since 2005.
"We have to work on the process and being more consistent," Limback said. "That starts right now with our approach to workouts every day. We need to get tougher and become better leaders on and off the court. We have a lot of guys back. There's a lot of excitement for that but some of the other top teams in our league are returning good players too. What are we going to do to close that gap? I was talking to (strength and conditioning) Coach Berner about this. He said, 'If you're in a race and you're behind somebody. What do you have to do? You have to run harder. You have to work harder.'"
The expectations will be different come next winter. Hornick, Reimers and Shuck are now known commodities that each averaged 13.0 or more points this past season. Pierce and Sydney, Australia, native Chris Johnstone will both graduate and move on. Still, the cupboard is stocked for a step forward and a possible run at a national tournament berth. Limback continues to work towards joining his former coach, Grant Schmidt, as the only head coaches in program history to steer the Bulldogs to the national stage.