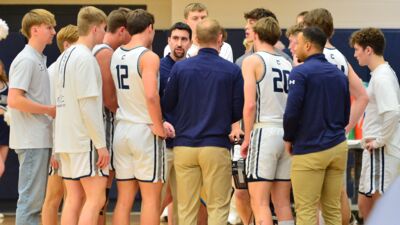 SEWARD, Neb. – Following the uplifting win over Dakota Wesleyan, the Concordia University Men's Basketball team has a full week to prepare for a rematch with ninth-ranked Jamestown. In last week's action, the Bulldogs experienced a rough road outing in an 89-64 loss at Mount Marty before regrouping to claim a 78-69 home victory over Dakota Wesleyan. It's been an up-and-down ride lately with the Bulldogs going 3-4 over their past seven outings. Even so, Head Coach Ben Limback's squad remains in the thick of things near the top of the league standings with a 7-4 GPAC mark (11-6 overall).
This Week
Saturday, Jan. 14 at No. 9 Jamestown (13-3, 5-3 GPAC), 3:45 p.m.
--Live Webcast | Live Stats | 104.9 Max Country | Location: Newman Arena (Jamestown, N.D.)
By the numbers
· A fresh set of GPAC ratings were released on Monday via NAIA.org. The conference lists Jamestown, Morningside, Dordt, Northwestern, Concordia and Hastings (in that order) up for consideration for the new NAIA national poll that will be unveiled on Wednesday. In the current GPAC standings, the Bulldogs sit third behind Morningside (6-2) and Dordt (6-3) while just above Jamestown (5-3) and Northwestern (5-3) by percentage points. Concordia has work to do if it is to get back into the NAIA top 25. The Bulldogs have been ranked as high as 19th this season (in the Nov. 30 poll). Massey Ratings lists Concordia as the NAIA's No. 22 team with a strength of schedule rating of 18th.
· The Bulldogs unraveled in just about all aspects of the game in the loss to Mount Marty (7-11, 3-7 GPAC). Concordia allowed the Lancers to shoot 56.1 percent (32-for-57) from the floor and surrendered 26 points to star freshman Tash Lunday. On the offensive end, the Bulldogs shot 38.9 percent (21-for-54), went 7-for-29 from 3-point range and struggled from the foul line (15-for-27). Brad Bennett stepped into the starting lineup in Tristan Smith's absence and paced the team with 22 points. Gage Smith supplied 12 points and six rebounds while Noah Schutte was held to eight points on 2-for-10 shooting from the floor. Concordia has fallen in trips to Yankton, S.D., in back-to-back seasons.
· It was a much different story when the Bulldogs returned home to host the Tigers (8-8, 4-4 GPAC). Concordia toughened up on the defensive end and limited Dakota Wesleyan to 35.9 percent (23-for-64) shooting from the floor. Individually, Gage Smith starred in posting 25 points, 10 rebounds, four blocked shots and two steals. In supporting roles, Schutte notched 21 points, eight rebounds and two blocks and Bennett produced 11 points, 10 rebounds and five assists. Garrett Seagren chipped in with eight points, five steals, four rebounds and three assists. The Bulldogs made up for 2-for-20 3-point shooting by taking care of the ball (five turnovers) and by scoring in the paint. Concordia has won three straight in the series with DWU and is 27-1 over its last 28 home games.
· Gage Smith moved up another rung on the program's all-time rebound list last week while pushing his career rebound total to 795. He recently moved past the likes of Jon Ziegler (762) and Scott Beck (781). Gage ranks behind only Matt List (928) and Chandler Folkerts (868) for career rebounds. In terms of career scoring, Gage ranks 24th in school history with 1,179 points and has totaled 213 assists, 111 steals and 59 blocks in his time as a Bulldog. The native of Elizabeth, Colo., is in his fifth year in the program and has been part of teams that won GPAC championships in 2019-20 and 2021-22.
· Since going down with an injury at the University of Science & Arts of Oklahoma on Dec. 30, Tristan Smith has missed both games in the year 2023. Concordia was actually down two starters in the win over Dakota Wesleyan. The new-look starting lineup versus Dakota Wesleyan included Schutte and Gage Smith in the frontcourt and a backcourt of Bennett, Payson Gillespie and Seagren. An Omaha native and Westside High School alum, Gillespie started for the first time in his collegiate career. All five starters played at least 30 minutes in the victory. The rotation went nine deep as Limback used Joel Baker, Zac Kulus, Kelly Vyhnalek and Logan Wilson off the bench. It will be a collective effort in trying to make up for the injury to Tristan Smith, who is averaging 14.3 points and 6.3 rebounds per game. Now averaging 10.3 points, Bennett is shouldering a much heavier load in the backcourt.
· Schutte has become a star on the collegiate scene after he accomplished the rare feat of reaching 2,000 points and 1,000 rebounds during his prep career at Laurel-Concord-Coleridge High School. Among GPAC players, Schutte ranks fifth in field goal percentage (.568), eighth in 3-point field goal percentage (.426), eighth in scoring average (18.4) and 18th in rebounding (5.8). Over 69 career games at Concordia, Schutte has totaled 846 points and 339 rebounds and has shot 50.4 percent from the floor. Schutte has reached the 20-point mark in seven games this season with a career high of 32 coming in the win at Texas Wesleyan University.
The opponent
Jamestown dealt the Bulldogs a 90-59 blow inside Friedrich Arena back on Nov. 22. That result gave the Jimmies a measure of revenge after Concordia took three meetings from Jamestown during the 2021-22 season. The conversation about Jamestown always begins with big man Mason Walters, the two-time GPAC Player of the Year. On the season, he's averaging 28.2 points, 9.7 rebounds, 3.4 assists and 2.3 blocks per game. Head Coach Danny Neville's squad can play inside and out thanks to a backcourt that features the likes of Will Cordes, Marc Kjos and Cole Woodford. Jamestown leads the NAIA in 3-point field goals per game (11.6) while ranking fourth in scoring average (90.9). It's worth noting that the Jimmies have been upset twice at home within GPAC play – by Dakota Wesleyan and Doane. Jamestown is 4-2 at home and 9-1 in road/neutral site contests this season. The Jimmies will host Briar Cliff on Wednesday before welcoming the Bulldogs to town on Saturday.
Probable starters
Concordia (11-6, 7-4 GPAC)
G – Brad Bennett (10.3)
G – Payson Gillespie (4.3)
G – Garrett Seagren (4.1)
F – Noah Schutte (18.4)
F – Gage Smith (12.5)
Head Coach: Ben Limback (290-277, 19th season overall; 175-119, 10th season at CUNE)
Jamestown (13-3, 5-3 GPAC)
G – Will Cordes (12.3)
G – Marc Kjos (8.9)
G – Cole Woodford (12.2)
G/F – Reid Gastner (12.3)
F – Mason Walters (28.2)
Head Coach: Danny Neville (163-77, 8th season)
Next week
The Bulldogs will host No. 23 Morningside on Jan. 18 and then will play at Northwestern on Jan. 21.