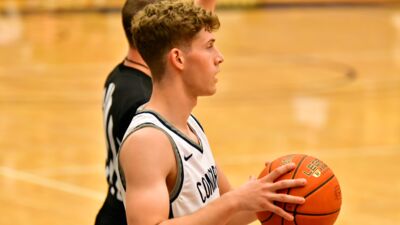 SEWARD, Neb. – The unbeaten record will be put to the test early this week as the Concordia University Men's Basketball team looks forward to hosting No. 5 Jamestown on Tuesday. Tipoff is set for 6:45 p.m. CT from Friedrich Arena. The 23rd-ranked Bulldogs will also head to Forest City, Iowa, on Saturday for a nonconference matchup with Waldorf University. Head Coach Ben Limback's squad moved to 5-0 this past week as it defeated Midland at home, 83-47, and Dordt on the road, 87-72. Concordia is one of three teams in the GPAC that still have yet to lose this season.
This Week
Tuesday, Nov. 22 vs. No. 5 Jamestown (4-1, 1-1 GPAC), 6:45 p.m.
--Live Webcast/Stats | Max Country | Location: Friedrich Arena (Seward, Neb.)
Saturday, Nov. 26 at Waldorf (3-3), 3 p.m.
--Live Webcast | Live Stats | Location: Hanson Fieldhouse (Forest City, Iowa)
By the numbers
· It was far from an offensive showcase when Concordia and Midland got together on Nov. 16, but the Bulldogs used their muscle and athleticism on the interior to dominate the game. Concordia grabbed an astounding 64 rebounds (compared to 43 for the Warriors) and made 21-of-24 free throws in the process of pulling away. Midway through the first half, the Bulldogs had built a 25-7 advantage and were never seriously threatened. Noah Schutte finished with 20 points and nine rebounds and Gage Smith (10 points and 12 rebounds) produced a double-double. Tristan Smith also reached double figures while posting 11 points, seven rebounds, two blocks and two steals. Brad Bennett and AJ Watson contributed nine points apiece. Defensively, Concordia held Midland to 23.6 percent (17-for-72) shooting.
· The game at Dordt did not play out quite the same way. In fact, the first half did not go as scripted as the Bulldogs found themselves down by as many as 12 points. A Garrett Seagren trey early in the second half began to turn the momentum in Concordia's favor. The Laurel, Neb., native Schutte took over the game by scoring 17 of his 22 points in the second half. The Bulldogs edged in front by the 13:23 mark of the second half and pushed the lead to double digits (73-62) with 3:17 left to go. Schutte's line included nine rebounds and seven assists. Three teammates joined him in double figures: Gage Smith (19), Bennet (18) and Tristan Smith (10). Tristan also snared 11 rebounds in helping Concordia own a 42-33 advantage in that category. Dordt shot only 36.1 percent in the second half.
· Schutte just keeps raising his game. Over last week's two outings, Schutte totaled 42 points while making 16-of-27 shots from the field and 9-of-10 attempts from the foul line. He also collected 18 rebounds and 10 assists (compared to one turnover) throughout the Midland/Dordt wins. On the season, Schutte is averaging 20.6 points and 8.4 rebounds and is shooting 67.9 percent from the field. The Laurel-Concord-Coleridge High School alum broke out in 2021-22 after serving as more of a role player in 2020-21. Schutte has totaled 637 points in 57 career collegiate games.
· In official ratings released last week, the Bulldogs moved up to No. 2 in the GPAC and cracked the NAIA coaches' top 25 poll at No. 23. Despite last season's run to the national quarterfinals, Concordia began this season unranked, likely due to the graduation of star guards Carter Kent and Justin Wiersema. The top five of the GPAC ratings released on Nov. 14 included Jamestown, Concordia, Dordt, Northwestern and Morningside. The Mustangs have been impressive in starting 6-0 (2-0 GPAC) with wins this past weekend over teams ranked 14th and 16th. Dordt and Northwestern are currently receiving votes nationally.
· As part of the special 2021-22 run, the Bulldogs accomplished the difficult task of defeating Jamestown three times. Concordia won the regular season matchups by scores of 92-76 in Seward and 82-79 in North Dakota. The last matchup came in the GPAC tournament championship game and resulted in a 77-70 Bulldog victory inside a raucous Friedrich Arena. In the GPAC title contest, Schutte (22) and Gage Smith (20) both scored in the 20s while overcoming the 24 points and 10 rebounds of star Mason Walters. That triumph was part of a still-intact home win streak. Concordia has won 23 straight at home.
The opponents
Jamestown is the highest rated team in the GPAC coming off its journey last season to the national round of 16. Mason Walters may go down as one of the more accomplished players in the history of the GPAC. So far this season, he's averaging 29.8 points and 11.2 rebounds per game. Three other Jimmies are averaging in double figures for an offense that averages 96.0 points per game: Reid Gastner (14.0), Cole Woodford (11.8) and Will Cordes (11.2). Jamestown bounced back from its 68-60 upset loss to Dakota Wesleyan on Nov. 16 with a 104-72 win at Midland this past Saturday. Head Coach Danny Neville is in his eighth season leading the program.
Concordia saw Waldorf last season at the Cattle Classic. The Bulldogs won that matchup, 89-72. The Warriors went on to go 5-23 in 2021-22 and are off to a 3-3 start so far this season. The three victories have come over Oak Hills Christian College, Mount Marty and Central College (Iowa). Before hosting Concordia, Waldorf will be at Grand View University (Iowa) on Tuesday. The top scorers for Head Coach Nigel Jenkins' squad have been Tyree'on Johnson (14.5) and Noah Miller (14.3). The Warriors are averaging 67.5 points while allowing 68.3 points per game.
Next week
In the week following Thanksgiving, the Bulldogs will be at Morningside on Nov. 30 and will then host Northwestern on Dec. 3.