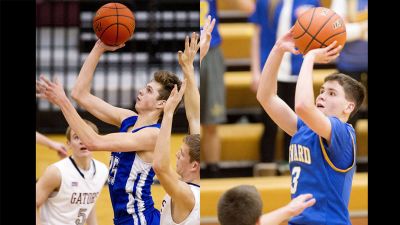 NCA Boys Basketball All-Star rosters
SEWARD, Neb. – Lincoln East High School's Clay Reimers and Seward High School's Brevin Sloup will be teammates at next week's 48th annual Nebraska Coaches Association Boys' Basketball Game. Both future members of head coach Ben Limback's Concordia men's basketball program will compete for the Red Team as part of the prestigious event set to tip off at 8 p.m. on Monday, July 25 at Lincoln North Star High School.
For more information on the game as well as the all-star selection process, click HERE.
Seward High School's all-time leading scorer, the 5-foot-10 Sloup already earned Southeast Nebraska All-Star Game MVP honors earlier this summer. During his senior season as a Bluejay, Sloup averaged 19.0 points and 4.0 rebounds while earning Class B second team all-state accolades. Said Limback of Sloup, "Brevin has a tremendous work ethic and a rare commitment to get better every day. He's been having a great summer and we expect him to be in the mix at the point guard position. He's a great, coachable kid and a joy to be around."
The 6-foot-7 Reimers reeled in honorable mention all-state recognition. The tall and lanky Reimers draws some parallels to Robby Thomas, who finished his Bulldog career as the program's all-time leading shot blocker. Said Limback of Reimers, "Clay had a tremendous senior year at Lincoln East. He is such a versatile athlete who can defend every position, rebound out of his area and use his length to disrupt a lot of things. At the offensive end, he has the ability to post up, can shoot the three and can go end to end in the open court. Clay has high Christian character and comes from a great family. With this character and his strong work ethic, he is on pace to have an outstanding career here at Concordia."