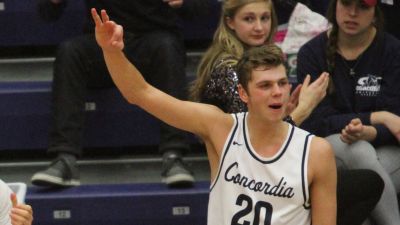 ELGIN, Ill. – Clay Reimers showcased his ability to score in just about every imaginable way while helping lead the Concordia University men's basketball team to an 89-74 victory in Elgin, Ill., home to Judson University, on Saturday evening (Dec. 30). During their stay in the Chicago area, the Bulldogs also claimed a 106-101 road win over Robert Morris University.
At 11-3 overall, fifth-year head coach Ben Limback's squad has put together the best 14-game start for the program since the 2004-05 national runner up team opened up at 13-1.
"We allowed them to get some easier looks in the first half and we didn't shoot well," Limback said. "In the second half I thought we shared the ball better. We were finding the open guy instead of trying to force things. Although we weren't sharp throughout the whole game, we had a really good spurt in the second half. Clay Reimers was really good. Kyle (Pierce) hit some big shots for us. He played well. To come on the road and get two wins and have some fun, I was really proud of the guys."
The tide turned quickly on Saturday after the Eagles (5-10) had built a 10-point advantage (35-25) in the opening half. Concordia closed the half on a 13-3 run to even things up before putting together a dominant 20 minutes of play. It turned into an entertaining battle featuring the star power of Judson guard Taylor Boley and Reimers. While Boley threw in 28 points and got the upper hand early, Reimers had the last laugh.
The lanky 6-foot-8 product of Lincoln East High School presented a matchup nightmare for the Eagles. Reimers slammed an emphatic two-hand jam during the second half run and later curled home a back breaker of a 3-point field goal that provided a late 13-point lead. He ended his day with 26 points, 11 rebounds and two blocked shots while going 12-for-15 from the field. The effort came a day after he posted 26 points and 12 boards at Robert Morris.
"Clay hit a three tonight and I thought that was the biggest shot of the night," Limback said. "When he consistently runs the floor he's very tough to guard because not many bigs can stay with him footspeed-wise. If they can, they're probably not 6-8. He's a unique player who's really gifted. Tonight he showed that offensively."
The Bulldogs never trailed during a second half that began with Tanner Shuck burying a 3-point field goal. Concordia held its first double-digit advantage (60-50) at the 12:20 mark thanks to a Riley Tegtmeier layup in traffic. Judson threatened with a quick 5-0 run, but the Bulldogs responded with a triple from Pierce and a layup from Reimers to restore order. Concordia's largest hovered at 17 points.
Pierce (13 points, nine rebounds) came up one rebound shy of recording a second-straight double-double. Three additional Bulldogs reached double figures in scoring: Shuck (13), Jake Hornick (12) and Zach Friel (10).
Boley went 9-for-24 from the field while taking more than a third of his team's shots (27-for-68). Teammate Jordan Johnson chipped in 15 points and Germaine Roebuck turned in a double-double (11 points, 10 rebounds) in his first action of the season. The Eagles shot 39.7 percent – not nearly good enough to keep up with Concordia's figure of 55.6 percent (30-for-54). The Bulldogs also outmuscled Judson on the boards, 44-30.
It's now back to Nebraska and a return to conference play for the Bulldogs. They will head to Crete on Wednesday for a tussle with rival Doane (8-9, 3-4 GPAC) inside the Haddix Center. Tipoff is slated for 8 p.m. CT. The home team won last season's two meetings.