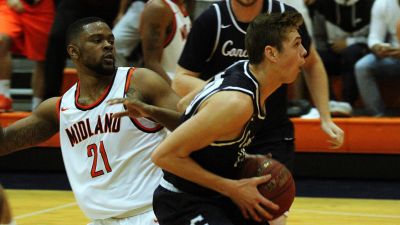 FREMONT, Neb. – The Concordia University men's basketball team still hopes it can prove it's cut out for life on the road in the GPAC. After an impressive offensive display in last week's upset of 17th-ranked York College, the Bulldogs were handled by host and 21st-ranked Midland, 87-77, inside the Wikert Event Center on Wednesday night.
Fourth-year head coach Ben Limback's squad is still searching for its first true road victory of the 2016-17 season. Concordia fell to 4-3 overall and to 0-2 in conference play.
"They're a great basketball team," Limback said. "I don't think we took anything away from them defensively until there were maybe six or seven minutes left in the second half. All of the sudden we started to believe. We really started to be more aggressive."
The Warriors (6-0, 1-0 GPAC) are a different looking team than the one the Bulldogs saw last season. Featuring returning first team all-conference post Alex Starkel and an influx of transfers, Midland remains unbeaten. A transfer from Ashford University, sharpshooting guard Diamontae McKinley burned Concordia with 12 of his 18 points in the first half. Starkel then put up 16 in the second half as the Warriors extended their lead to 23 (60-37) with just under 16 minutes left in the game.
But Midland didn't exactly slam the door shut. Concordia made its way back within seven (79-72) after Tanner Shuck's trey with 1:16 left. The outside shooting of Shuck and fellow freshman Clay Reimers helped bring the Bulldogs back. However, Concordia still had too many empty possessions at a point when there was almost no margin for error.
The team's defensive tenacity down the stretch provided the most optimism for Limback's squad. A 7-for-11 performance from 3-point range in the second half didn't hurt the Bulldog comeback effort either.
"We just wanted to be more aggressive defensively," Limback said. "We were on our heels for the majority of the game. We have to get them to change their mindset so they get on their heels. I just didn't think we were aggressive until towards the end when we started to get some stops."
The Bulldog-Warrior matchups have produced some classic battles in the paint between reigning GPAC player of the week Chandler Folkerts and Starkel. The Midland standout post totaled a game high 24 points. Meanwhile, Folkerts put up 23 points while going 8-for-13 from the floor.
The production of Folkerts is a given. Concordia would love to be able to count on the continued progress of Reimers and Shuck, both of whom put up 11 points on Wednesday while getting extended minutes. Sophomore guard Chris Johnstone added 14 points and four rebounds. On the other hand, the Warriors made it a priority to limit Eli Ziegler's opportunities. He hoisted only four shots and totaled four points on Wednesday.
Concordia fell despite shooting 47.5 percent (28-for-59) from the floor. That number jumped up to 56.7 percent in the second half. Midland shot 53.2 percent (33-for-62) from the field.
The Bulldogs will return to Walz Arena on Saturday for their first GPAC home game of the 2016-17 season. Mount Marty (3-4, 0-1 GPAC) will serve as the opponent for a contest set to tip off at 4 p.m. CT. The Lancers entered the new campaign having gone two-straight seasons without winning a conference game.