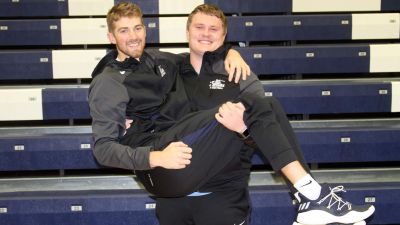 SEWARD, Neb. – The final week of the regular season has arrived for the Concordia University men's basketball team. The Bulldogs hope to make an end-of-season push as the career of senior Kyle Pierce begins to wind down. During the current four-game skid, Concordia has dropped three on the road, meaning it's glad to be back at home this week to host Doane and 17th-ranked Dakota Wesleyan.
This week's schedule
Wednesday, Feb. 14 vs. Doane (13-15, 7-9 GPAC), 8 p.m.
Saturday, Feb. 17 vs. No. 17 Dakota Wesleyan (19-9, 9-7 GPAC), 4 p.m.
Both games this week will be carried live by 104.9 Max Country and by the Concordia Sports Network. Fans are encouraged to wear red on Wednesday to support the 'red out.'
Head coach Ben Limback's squad still has hopes of claiming the No. 4 seed and a home game in the quarterfinals of the GPAC tournament. Only one scenario will allow that to happen – if the Bulldogs can win their final two regular-season games and pull even with Dakota Wesleyan and Hastings in a three-way tie for fourth place. Concordia would have the tiebreaker based on a 3-1 record versus the Tigers/Broncos. The Bulldogs last hosted a GPAC postseason game in 2011 when the format gave first-round byes to the top five seeds. The 2009-10 team was the last to earn a top-four conference finish.
Since a 12-3 start to the season, Concordia has run hot and cold from an offensive standpoint. Since defeating Doane in overtime on Jan. 3, the Bulldogs have reached the 75-point mark only twice in 12 outings. The 75-point figure has been a magic number this season. Concordia is 15-2 when tallying at least that many points. Better offensive play this week could allow the Bulldogs to claim a win over a ranked opponent for the first time in nine tries this season.
Pierce has played a much bigger role in his season than he did in his first two years as a Bulldog. Over 75 career games, the Haxtun, Colo., native has put up 449 points, 290 rebounds, 40 blocks and 39 steals. He's averaging 10.5 points and 6.3 rebounds this season. Additionally, Chris Johnstone will also be honored on senior day. The transfer from Chaminade University will forego his one season of eligibility remaining beyond 2017-18.
A young Doane team has been similarly inconsistent during the 2017-18 campaign. Last week provided a perfect example. The Tigers picked up a win at Hastings in the middle of the week before falling at home to Nebraska Christian College. Head coach Ian McKeithen has regularly filled his starting lineup with four freshmen, including budding star Nick Kornieck, a Las Vegas native who averages 17.3 points and 5.1 rebounds. Doane is 5-8 in true road games this season.
Concordia will try to avenge its 77-69 loss at Dakota Wesleyan on Nov. 18. Meanwhile, head coach Matt Wilber's squad hopes to strengthen its case for a national tournament bid. The Tigers will host 10th-ranked Northwestern on Wednesday before shifting focus to Saturday's trip to Seward. Dakota Wesleyan boasts an impressive star trio of Jason Spicer (19.4 ppg), Ty Hoglund (18.8 ppg) and Trae Vandenberg (15.4 ppg). In their most recent outing, the Tigers lost, 84-83, on a buzzer beater at No. 10 Morningside.
Dates for the GPAC tournament that begins next week are Feb. 21, 24 and 27. The winner receives an automatic bid to the national tournament (March 7-13).
Projected lineups
Concordia (16-11, 7-9)
G – Jake Hornick: 14.5 ppg, 5.2 rpg, 4.0 apg, .481 fg%, .379 3-pt fg%, .797 ft%
G – Cordell Gillingham: 8.6 ppg, 4.4 rpg, 3.0 apg, .495 fg%, .355 3-pt fg%, .632 ft%
G – Tanner Shuck: 13.5 ppg, 2.9 rpg, 2.1 apg, .439 fg%, .382 3-pt fg%, .718 ft%
F – Kyle Pierce: 10.5 ppg, 6.3 rpg, 0.9 spg, .453 fg%, .346 3-pt fg%, .804 ft%
F – Clay Reimers: 15.7 ppg, 8.5 rpg, 2.1 apg, 1.2 bpg, .611 fg%, .436 3-pt fg%, .657 ft%
Doane (13-15, 7-9)
G – Nick Kornieck: 17.3 ppg, 5.1 rpg, 1.6 bpg, .479 fg%, .402 3-pt fg%, .718 ft%
G – Anthony Laravie: 12.9 ppg, 4.0 apg, 3.5 rpg, 1.2 spg, .441 fg%, .405 3-pt fg%, .724 ft%
G – Zach Witters: 6.8 ppg, 2.3 rpg, 1.7 apg, .352 fg%, .370 3-pt fg%, .884 ft%
G – Rylee Zimmerman: 12.3 ppg, 5.4 rpg, 2.4 apg, .453 fg%, .309 3-pt fg%, .746 ft%
C – Trace Tupper: 7.9 ppg, 4.8 rpg, 1.4 bpg, .566 fg%, .583 ft%
Dakota Wesleyan (19-9, 9-7)
G – Ty Hoglund: 18.8 ppg, 3.6 rpg, 2.8 apg, 1.3 spg, .487 fg%, .394 3-pt fg%, .844 ft%
G – Trae Vandeberg: 15.4 ppg, 5.3 rpg, 3.6 apg, .464 fg%, .345 3-pt fg%, .900 ft%
F – Nygel Drury: 10.9 ppg, 3.9 rpg, 1.3 apg, .533 fg%, .423 3-pt fg%, .694 ft%
F – Collin Kramer: 6.3 ppg, 5.7 rpg, 1.9 apg, .453 fg%, .348 3-pt fg%, .577 ft%
F – Jason Spicer: 19.4 ppg, 5.8 rpg, 5.6 apg, .601 fg%, .424 3-pt fg%, .725 ft%