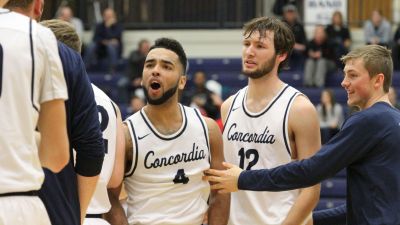 SEWARD, Neb. – The Concordia University men's basketball team controlled most of the second half in Wednesday night's rivalry heart stopper. Unfortunately, it was the hearts of the Bulldogs that ceased when Cole Klingsporn's trey from the right corner beat the buzzer and lifted visiting Nebraska Wesleyan to an 89-88 win inside Walz Arena.
Third-year head coach Ben Limback's squad had hoped to capture its third-straight GPAC victory. Placed just outside the top 25 rankings this week, Concordia fell to 6-2 overall and 2-2 in conference play.
On the game's deciding sequence, GPAC-leading scorer Trey Bardsley penetrated into the lane and drew two help defenders. Bardsley spotted Klingsporn, who caught the ball, stepped back and calmly drained the triple as Robby Thomas attempted to close out. The entire Wesleyan bench erupted and mobbed Klingsporn, who fired just that lone three all night.
"I felt the whole game we just didn't have the aggressive mode," Limback said. "I thought we did a good job defensively, just not enough effort on the defensive glass. It shouldn't come down to that last-second shot, but they stepped up and made a big shot."
The Prairie Wolf comeback spoiled another big night from Concordia point guard Jamie Pearson. The Ypsilanti, Mich., native dropped in 36 points, including 28 of the Bulldogs' 52 second-half tallies. Seemingly every time the Prairie Wolves (6-2, 2-1 GPAC) threatened to take the lead, Pearson would counter by speeding into the lane for an acrobatic two.
Pearson pushed Concordia's second-half advantage to as much as 10 points on two different occasions. But the Bulldogs could not survive Nebraska Wesleyan's late 3-point barrage. Cooper Cook, Bardsley and Klingsporn each connected on a trey apiece over the game's final 47 seconds. During that timeframe, the Bulldogs had one empty possession and went 3-for-4 from the foul line.
The Prairie Wolves' hot shooting late in the game made up for a solid defensive effort by Concordia. The Bulldogs limited Bardsley to 26 points (five below his average) and Nebraska Wesleyan to a collective shooting percentage of .405 (30-for-74). Despite going 7-for-21 from the field, Travis Giesselman played like a bull in the paint. He went for 23 points and 12 boards for the victors.
Eli Ziegler did most of Concordia's damage from the outside. His third and final triple came at the 4:08 mark and provided a 79-72 advantage. Ziegler and Chandler Folkerts finished with 14 points apiece. Folkerts gave Wesleyan fits inside, but managed to play only 21 minutes due to foul trouble.
Three players – Bardsley (26), Giesselmann (23) and Cook (20) – combined for 69 of the Prairie Wolves' 89 points. Nebraska Wesleyan entered the night averaging 100.0 points per game. Head coach Dale Wellman's squad had reached the century mark in six-consecutive games.
The Bulldogs will play a team ranked No. 8 in NAIA Division II for the second time this season when they travel to Mitchell, S.D., on Saturday for a matchup with top-10 rated Dakota Wesleyan (7-3, 3-1 GPAC). Tipoff is slated for 4 p.m. from The Corn Palace. The Tigers lost for the first time in conference play on Wednesday night, falling by a score of 78-70 at Dordt.