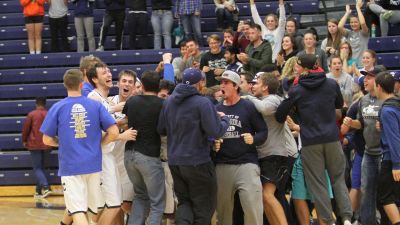 Pearson takeover drives Bulldogs past No. 8 Bellevue
SEWARD, Neb. – Point guard Jamie Pearson played the role of one-man wrecking crew in propelling the Concordia University men's basketball team to a 97-96 overtime win over eighth-ranked Bellevue University on Friday night at the 16th annual Cattle Classic. Pearson got impossibly hot after halftime and fueled a second-half comeback from 14 points down. The Wayne State transfer totaled 37 points and dropped in the game winner in the final seconds of overtime.
The victory marked the second over a top 10 team in as many seasons for third-year head coach Ben Limback's program. The Bulldogs are 2-0 for the first time under Limback's guidance.
"I'm proud of Jamie," Limback said. "I'm proud of how he stepped up constantly tonight. We needed it. I felt like we were out of sync. We didn't have any flow tonight, but I'm just so proud of him and the work he's put in. Moments like this are something special. Jamie was a monster tonight."
Leading 96-95, the Bruins committed a shot clock violation with :12.8 left in overtime. After a Concordia timeout, Micah Kohlwey inbounded the ball to Pearson, who took it the length of the court and rolled home a floater with 5.8 seconds remaining. Bellevue failed to get up a shot on its final possession and the party was on.
Pearson said the scoring outburst was his highest since high school. If Bulldogs fans did not know of the Ypsilanti, Mich., native before, they do now.
"I've got some good teammates," Pearson said. "A lot of guys can get it done, it was just my turn to step up. It was all for the team. Every day we just try to get better, get a win and move onto the next one."
Bellevue had seemingly taken control with a 9-0 second-half run that answered a Chandler Folkerts trey. On the strength of a more balanced scoring attack (five players in double figures), the Bruins built a 74-60 lead with less than 9:30 left in regulation.
In a performance for the ages, Pearson sank 28 of Concordia's last 40 points over the final 14:46 of game time, including the overtime session. During that stretch he nailed six of his seven treys on the night and saved his biggest buckets for the end. With the Bulldogs down 96-92 with under two minutes left in overtime, Pearson stepped up and buried a long trey. After two late defensive stops, the star point guard emerged with the game winner.
"I really liked how our guys kept fighting through. It was just a gutsy performance," Limback said. "Bellevue's an outstanding team. They shot the lights out. We had no answer at times other than Jamie Pearson."
Concordia's first win over Bellevue since the 2004-05 season did not come without a struggle. The Bruins connected on 14 triples of their own, including five from TeShon Burton (team high 20 points). Bellevue, which has made 13-straight NAIA national tournament appearances, led nearly the entire night. The Bulldogs' largest advantage the all evening was two points.
Lost in the spectacle of Pearson's heroics was a fine night by Folkerts, who finished with 26 points and 13 rebounds. Senior Robby Thomas also turned in a double-double with 12 points, 11 rebounds and two blocks. Concordia shot 52.9 percent for the game compared to 44.4 percent shooting by Bellevue.
"Oh yeah, you guys already know about him," Pearson said of Folkerts. "I don't have to say too much about him. He's a big beast down there."
The Cattle Classic resumes on Saturday with another four games. The Bulldogs will tip off at 3 p.m. against Mayville State University (N.D.), a member of the NAIA's North Star Athletic Association. On Friday the Comets got past York College, 73-69, in a contest that also went to overtime.