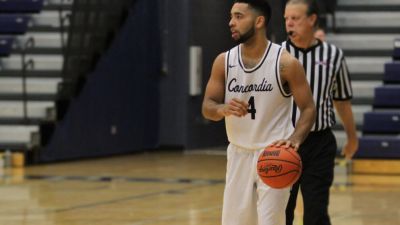 SEWARD, Neb. – In the type of GPAC barn burner that has characterized the early conference season, the Concordia University men's basketball team held off red-hot Dordt inside Walz Arena on Wednesday night. In an overtime contest that had onlookers reaching for the Pepto-Bismol, the combo of Jamie Pearson and Chandler Folkerts lifted the Bulldogs to a 100-95 win.
Wednesday's latest thriller marked the third overtime game played at Walz already this season. Concordia is 3-0 in those contests with wins over No. 8 Bellevue (97-96) and Morningside (110-99) in extra-session affairs. Third-year head coach Ben Limback's squad is now 7-3 overall and 3-3 in conference action.
"I'm just so proud of the guys," Limback said. "This wasn't a clean fight. We didn't do exactly what we needed to do all the time.
"The two keys were getting to the free throw line and rebounding. Whoever was going to do that the best was going to win. We got more free throws than they did and we rebounded well for the most part. It was just a well-fought game."
Not unlike his dominant performance in the overtime upset of Bellevue, Pearson exploded in crunch time. In an impossibly hot streak, Pearson drilled four treys in a six-possession span and then showed his unselfishness with a picture-perfect no-look dish to Chandler Folkerts on the break.
But Dordt, led by Nathan Rindels (team high 30 points) kept on coming. Even as Pearson's 3-point barrage concluded, the Bulldogs held just a slim 78-75 lead with 3:52 remaining in regulation. Rindels tried to match Pearson point-for-point and nearly did. The prolific Defender tallied four points as part of an 8-2 Dordt run that sent the game to overtime.
That's when Folkerts, despite playing with four fouls, announced his presence with authority. Folkerts put up six of his 23 points in the extra session, highlighting the final five minutes with a powerful one-handed slam courtesy of another no-look pass from Pearson.
Hanging onto just a one-point advantage (94-93) in the final minute, Concordia sewed up another tight win by making each of its last six foul shots while also getting two key stops defensively. A Folkerts steal on the final Defender possession put the game on ice.
"It was big time," Pearson said. "Losing the last two we just wanted to come back home and make a good impression in front of our fans. We wanted to let them know that we're still playing hard. We wanted to play Bulldog basketball and get a big win."
Pearson left his coach marveling once again. There's no doubt about the Ypsilanti, Mich., native's ability to make things happen with the basketball in his hand. He equaled a career high on Wednesday with 36 points, marking his fourth 30-point game of the season.
"He's special. He's special offensively," Limback said. "He hit some big shots for us to get us going against their zone. I'm just proud of what we did at the end there. He pulled off a big rebound down the stretch for us."
Senior Robby Thomas also turned in another solid night for Concordia. He posted a line of 15 points, nine rebounds, five blocks and three assists. The trio of Pearson, Folkerts and Thomas combined for 74 points.
Concordia knocked down 29-of-37 free throws (.784) and outrebounded Dordt, 46-41. The Defenders (7-6, 3-3 GPAC) had entered the contest ranked seventh nationally in rebound margin (+10.2). The Defenders were riding high into Seward following wins over No. 20 Tabor College, No. 8 Dakota Wesleyan and No. 23 Hastings in their previous three outings.
The Bulldogs will remain at home for Saturday's matchup with Mount Marty (1-9, 0-4 GPAC). Tipoff is slated for 4 p.m. from Walz Arena. Fans are encouraged to wear ugly Christmas sweaters to the basketball doubleheader as part of a Christmas-themed event. The Lancers have dropped 29-consecutive GPAC contests.