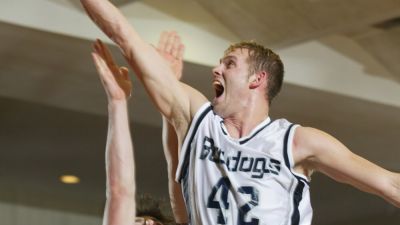 Jason Jisa never minded being likened to a junkyard dog or a savvy local YMCA player. He considered such labels compliments during his decorated Concordia basketball career that ended in the 2005 NAIA Division II national championship game.
Make no mistake, the Seward native and Seward High School product possessed plenty of talent – enough to receive a walk-on offer from Frank Solich's Huskers. Says Jisa, "It was kind of a no-brainer at that point for me, growing up and being a big fan."
While suiting up for the 2002 Rose Bowl, which served as the BCS National Championship Game, Jisa could not have possibly dreamed of the news that would surface 15 years later. In late June, Jisa was announced as one of four individuals named to the Concordia Athletic Hall of Fame class of 2017. Instead of hoping to make an impact as a walk-on receiver in an option offense, Jisa carved out a Hall of Fame career on the hardwood while playing in his hometown.
"I had this big smile on my face," Jisa said of learning about his selection for the Hall of Fame. "It was a lot of rehashing everything that led up to that. It's definitely humbling because there are a lot of people that come through the university every year. It's a lot different when you're accepting a pat on the back from someone else. There's a lot more to life than sports, but it's a cool moment."
So you want to know how Jisa caught the eye of Nebraska football coaches and then somehow ended up playing hoops for Grant Schmidt at Concordia? What if we told you Jisa did not even play high school football until his senior year? Something special happened and the 6-foot-4 receiver with go-go gadget arms kept on catching touchdown passes. Jisa "blew up" and took the Bluejays all the way to the state semifinals.
Nebraska assistant Ron Brown was told he needed to come see Jisa. Brown first watched Jisa at a basketball game in Schuyler and approached Jisa with the walk-on offer. Jisa spent the 2000 (redshirt) and 2001 seasons wearing Husker red while quarterback Eric Crouch tore it up. The problem for Jisa? He was a pass-catching receiver in a run-happy offense. That fact and some "personal issues" resulted in his departure, though he really didn't have any plan in place.
Enter Schmidt and the Bulldogs. Jisa was about to make it cool to play as a hometown boy at Concordia. "Going from Nebraska to here, I didn't know what to expect," Jisa said. "For me it seemed like a step down at the time just because of where I was at. People talked about me being a quitter so I had something to prove. I put a lot of energy into it."
In three seasons at Concordia, Jisa piled up a U-Haul truck worth of honors, reeling in third team All-America, first team All-GPAC (twice), GPAC defensive player of the year (twice) and honorary captain of the Omaha World-Herald All-Nebraska team awards. He amassed 1,117 points, 477 rebounds, 159 steals and 96 blocked shots. He led teams to two GPAC tournament titles, two national tournament appearances and six total national tournament wins.
One of those wins at the national tournament stood out for Jisa, a key figure in the 2005 run to the title game. In the quarterfinals, Concordia met up with Cornerstone (Mich.), a team Jisa believes was the best in the nation that year. The Golden Eagles jumped out to an 18-point second half lead before the Bulldogs battled back and eventually won, 71-68, with the help of final second heroics from Jon Ziegler.
"That was the pinnacle of everything," Jisa said. "It epitomized who we were. We were a bunch of junkyard dogs that would fight and scrap to the very end."
No one embodied those "junkyard" characteristics better than Jisa, a do-it-all type. He could score (he averaged 13.9 points his senior year), but he was more interested in playing winning basketball. Jisa and those long arms, which Schmidt reasons must make it a pain for Jisa to find a sport coat in his size, gave opponents fits.
"I think he had the longest arms of anyone I coached," Schmidt said. "That was such an advantage. He was excellent on both ends of the floor. He was a thinker. He had so much vision and could anticipate things and read the eyes of his opponent. His intuition on offense to set people up was something he enjoyed. Could he score? Yeah, but he wanted to make sure we won every possession."
Jisa was voted team MVP of the 2004-05 squad that featured plenty of other stars like Ziegler, Scott Beck and shot blocking machine Marcus Wernke. It was a team that scoffed at its preseason placement of seventh in the GPAC coaches' poll. Said Schmidt, "When they strapped on their shoes, they didn't lose."
The only thing that prevented Jisa and company from hanging a national championship banner in 2005 was eventual NBA draft pick Robert Whaley, who powered Walsh (Ohio) to victory over Concordia in the national final. There was no shame. Led by Jisa, the Bulldogs truly emptied the tank in pursuit of a championship.
"It's no question that Jason was the most valuable player on that team," Schmidt said. "He will always have a special place in my heart. He's someone for a lot of reasons that I admire and that I love."
As it turned out, Jisa's rightful college landing spot was in his own backyard. He entered Concordia with an admitted arrogance. "I'm the best athlete here," he thought. Jisa left a better man with memories that he'll recount forever – and memories he's likely relayed to his son Henry. Jisa doesn't regret the path he took. He gave football at Nebraska a shot. Ultimately, his journey roller coasted him through a Hall of Fame career as a Bulldog.
"It was something that came up in my life and I couldn't pass up on the opportunity (to play at Nebraska)," Jisa said. "I would do it again the same way. But there was never a point where I thought it was the wrong decision to transfer to Concordia."
To Schmidt's surprise, that junkyard dog he watched grow up in Seward appeared at his front door one day nearly 15 years ago. It was time for Jisa to come home. Now in sales at Sandhills Publishing in Lincoln, Jisa had made up his mind.
"I never thought we'd get another shot at him," Schmidt said. "All of the sudden in the middle of the summer my doorbell rings and there's Jason Jisa standing there. He told me he wanted to transfer and he asked me if he could play basketball for Concordia. It was pretty much a no-brainer. It really was a Godsend. The rest is history."