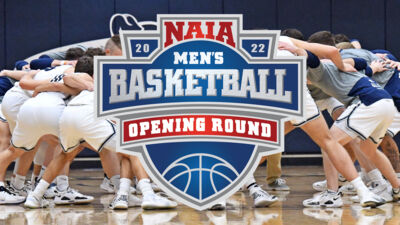 2022 Concordia MBB National Tournament Press Guide
SEWARD, Neb. – A historic season for Concordia University Men's Basketball will make a stop in Omaha for the opening round of the 2022 NAIA Men's Basketball National Championship. The fifth-seeded Bulldogs are in the process of preparing to take on 12th-seeded Indiana University Northwest at 7:15 p.m. CT on Friday. Head Coach Ben Limback will lead the program into its second national tournament appearance in three seasons. The other two teams that will join Concordia in the four-team pod at DJ Sokol Arena are fourth-seeded Marian University (Ind.) and 13th-seeded Freed-Hardeman University (Tenn.).
Opening Round Info (March 11-12)
*Tournament Home Page*
-Host: Omaha Sports Commission
-Site: DJ Sokol Arena (Omaha, Neb.)
-Tickets: https://am.ticketmaster.com/creighton/buy?filterType=3
--NOTE: There are no attendance limits. Masking is recommended but not required.
-Live Streaming Link: https://striv.tv/naia-omaha/ (pay-per-view)
-Live Stats: Presto Stats
-Radio: 104.9 Max Country
Game Schedule
2022 NAIA Men's Basketball National Championship Bracket (PDF)
Friday, March 11: (4) Marian (25-5) vs. (13) Freed-Hardeman (19-12), 4:30 p.m. CT
Friday, March 11: (5) Concordia (25-6) vs. (12) Indiana Northwest (23-7), 7:15 p.m. CT
Saturday, March 12: Concordia/Indiana Northwest vs. Marian/Freed-Hardeman, 7:30 p.m. CT
(Opening Round Final – winner advances to the final site)
By the numbers
· This will mark the first year of a 64-team, one-division bracket in NAIA men's basketball. From the 1991-92 through 2019-20 seasons, the NAIA was separated into two divisions. That changed last season when the divisions were dissolved. Due to consequences related to COVID-19, the field for the 2021 tournament was limited to 48 teams. Had the bracket included 64 squads as originally planned, the Bulldogs would likely be making a third-straight national tournament appearance. Concordia qualified for the 2020 NAIA Division II tournament after winning the GPAC postseason title.
· The 2022 trip to nationals will mark the 11th all-time appearance on the national stage for the program. Head Coach Ben Limback has now led the Bulldogs to two national tournament appearances, including the national tourney trip in 2020. In the first nine appearances, all presided over by former head coach Grant Schmidt, the Bulldogs went a combined 11-9. Limback played for the national qualifying teams of 1996, 1997 and 1998. Concordia has won its first-round game at the national tournament five times. Two teams in program history have reached at least the semifinals: the 1991-92 squad and the 2004-05 team (national runner up). The 1994-95 and 2002-03 squads advanced to the national quarterfinals.
· The accomplishments of the 2021-22 Bulldogs will be long remembered no matter the results at the national tournament. Coach Limback's squad became the program's first conference regular season champion since 1995-96 and the first Concordia edition since 1994-95 to claim both conference regular season and postseason championships in the same year. During the GPAC era (2000-present), the Bulldogs had not produced an undefeated home record since the '21-22 team recently polished off a 16-0 home mark. That perfect record was put to the test in buzzer-beating wins over Peru State College and Briar Cliff. Nothing was more memorable than the Carter Kent-to-Tristan Smith full-court alley-oop at the buzzer to beat Briar Cliff, 74-73. In addition, this team has broken a program record for conference wins in a season with 15.
· Concordia's No. 5 seed in the national tournament and No. 11 RPI in the NAIA show just how underrated it has been all season. The Bulldogs were ranked No. 23 in the final NAIA coaches' poll that was released on Feb. 23. The selection committee helped make the correction by rewarding Concordia with a trip to nearby Omaha. In another official metric, the Bulldogs were calculated to have played the 47th most challenging schedule in the NAIA. Concordia has defeated fellow national qualifiers in Briar Cliff, Dordt (twice), Jamestown (three times) and Northwestern and played a tight game with nonconference foe William Jessup University (Calif.), another qualifier.
· All five Concordia starters were named to the 2021-22 all-conference team. Carter Kent and Gage Smith were recognized as first teamers, Justin Wiersema landed on the second team and Noah Schutte and AJ Watson garnered honorable mention accolades. Kent is a four-time all-conference award winner having also been second team twice and honorable mention once. He was chosen by league coaches as the 2018-19 GPAC Freshman of the Year. On the season, Kent leads the Bulldogs in scoring at 15.9 points per game on the strength of 43.8 percent shooting from the floor, 34.1 percent shooting from 3-point range and 85.3 percent shooting from the free throw line. He is also averaging 3.4 rebounds, 3.2 assists and 1.2 steals per game. Also a CoSIDA Academic All-American, Kent has posted career totals of 1,638 points, 421 rebounds, 311 assists, 238 3-point field goals and 113 steals.
· Kent, Smith and Wiersema have been moving up the program's all-time lists. With 1,638 career points, Kent is 21 shy of Director of Athletics Devin Smith (1,659) for fifth on the program's all-time scoring chart. Kent also sports school career rankings of sixth in 3-point field goals and eighth in assists. Wiersema has moved to ninth in assists (294), 19th in rebounds (471) and 20th in scoring (1,241). Gage Smith has pushed his career point total to 922. He ranks 12th in program history with 598 career rebounds. For reference, the top four scorers in program history, above Devin Smith and Kent, are Jon Ziegler (2,099), Tom Raabe (2,016), Chandler Folkerts (1,963) and John Puelz (1,955).
· On March 12, 2020, the Bulldogs played in the final NAIA Division II men's basketball game ever. The remainder of the tournament following Concordia's 87-84 loss to Ottawa (Kan.) was shut down due to COVID-19. Six Bulldogs on the current roster saw action in that national tournament game: Ryan Holt, Carter Kent, Sam Scarpelli, Gage Smith, AJ Watson and Justin Wiersema. The contest took place at the Sanford Pentagon in Sioux Falls, S.D.
Opponent breakdown
(12) Indiana University Northwest
Overall Record: 23-7
Location: Gary, Indiana
Conference: Chicagoland Collegiate Athletic Conference
Head Coach: Javier Heridia
RPI: T-37th
SOS: T-137th
O-PPG: 75.8
D-PPG: 69.6
All-Conference: Jared Johnson (first team); Marshaud Watkins (honorable mention).
(4) Marian University
Overall Record: 25-5
Location: Indianapolis, Indiana
Conference: Crossroads League
Head Coach: Scott Heady
RPI: T-12th
SOS: T-76th
O-PPG: 80.4
D-PPG: 63.0
All-Conference: Christian Stewart (first team); Malek Edmonds (first team); Jacob Wiley (second team); Christian Harvey (honorable mention); Tyrie Johnson (all-defensive team).
(13) Freed-Hardeman University
Overall Record: 19-12
Location: Henderson, Tennessee
Conference: Mid-South Conference
Head Coach: Drew Stutts
RPI: 36th
SOS: 13th
O-PPG: 78.9
D-PPG: 75.9
All-Conference: Kortland Martin (first team); Geraldo Lane (freshman of the year).
Final site
Whichever team wins twice in Omaha will advance to play at the national tournament final site, Municipal Auditorium in Kansas City, Mo. Action from downtown KC will take place March 17-22. NAIA men's basketball has a long history in Kansas City with the first national tournament having taken place there in 1937. Additional information about the NAIA Men's Basketball National Championship can be found via the NAIA website HERE.