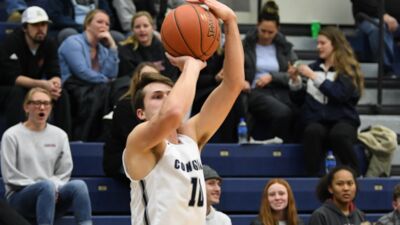 FREMONT, Neb. – A quartet of Bulldogs netted 15 points or more apiece in an offensive-oriented Wednesday (Feb. 2) evening clash in Fremont, Neb. The Concordia University Men's Basketball team packed its shooting touch on the road and outgunned Midland, 92-87, inside the Wikert Event Center. In the process, the Bulldogs earned a season sweep of the Warriors while picking up their fourth GPAC road win.
Every league game has heightened meaning this February as Head Coach Ben Limback's squad remains right on the heels of Briar Cliff (12-3 GPAC) at the top of the league standings. Concordia bumped its overall record to 19-5 (12-4 GPAC).
"I thought we came out really aggressive, really hungry in that first five or six minutes," Limback said. "Justin Wiersema was unbelievable tonight at both ends. Down the stretch we didn't play with as much aggressiveness, but Midland is a good basketball team. They can really shoot it. I thought we locked in most of the night. We made some careless mistakes mentally the last five minutes, but it was a great road win for us."
Midland had no response for the fearsome foursome of Carter Kent, Justin Wiersema, Noah Schutte and Gage Smith, which combined for 68 points in an offensive clinic. The Bulldogs shot a smoldering 61.0 percent (36-for-59) from the floor. Only trouble was that Midland was on its game on its own offensive end. Fueled by 20 points from Bo Sandquist, the Warriors sizzled their way to 55.2 percent (32-for-58) shooting.
In Limback's eyes, this one got more interesting than it needed to be. Concordia built the lead up to 18 (70-52) with just over 13 minutes remaining in the game. The advantage hovered in double digits all the way until the last 70 seconds. Sandquist drew a foul while shooting a trey with :31 left and made all three free throws for the game's final tallies. The Bulldogs had done enough to extend their series win streak to seven over Midland.
"On the road this time of year, there's a lot riding on this game," Limback said. "I think the guys felt that at the end. We have to be ready for a battle at home now. We still have a lot of work to be done. I was really proud of our practices on Monday and Tuesday. That's where it starts is mentally. We have to stay active and engaged. This team knows what's going on. They're senior heavy and they believe in each other."
Because he missed last week's win over Hastings, Wiersema hadn't played since Jan. 22. He showed no rust in racking up 10 points less than six minutes into Wednesday night's contest. He finished with a game high 21 points to go along with four assists. Meanwhile, Kent notched 17 points and three steals while Schutte and Smith both turned in exactly 15 points and five rebounds. AJ Watson chipped in eight points and Ryan Holt led the reserves with six. Midland never did own a lead on a night that saw Concordia in control for the most part.
The Warriors (14-12, 5-11 GPAC) have dropped eight in a row, including three by three points or less. Midland put five players in double figures against the Bulldogs. The host team fell despite making 17-of-22 from the foul line and committing only seven turnovers.
The Bulldogs will take aim at a regular season sweep of Dordt (17-7, 9-6 GPAC) on Saturday when the two sides meet at 3:45 p.m. CT inside Friedrich Arena. The first matchup went down to the wire in Sioux Center, Iowa, where Concordia escaped with an 84-82 victory on Nov. 20. On Wednesday evening, the Defenders eked out a 75-74 home win over Morningside.