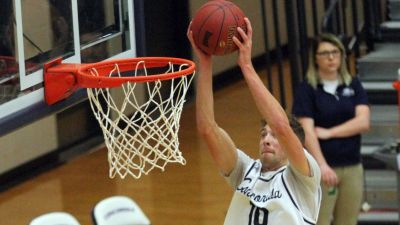 SEWARD, Neb. – A seven-point Bulldog lead late in the first half spiked to 23 points by the 15:46 mark of the second half in a game that spiraled out of control. The second half of Tuesday night's (Nov. 21) contest went something like this: the Concordia University men's basketball team placed the ball inside the cylinder a lot while Mount Marty did not. The result was a 105-63 victory for the Bulldogs, who brushed aside last week's loss at No. 10 Dakota Wesleyan.
Fifth-year head coach Ben Limback's squad has drilled a combined 31 treys in its two GPAC home victories. Concordia has improved to 6-2 overall and to 2-1 in conference play.
"Second half I thought we did a much better job of being patient and shot much better from three," Limback said. "It was good to see a lot of guys get into this one. We continued to play hard and make shots. I'm really proud of our guys. This is a tough game on break. Mount Marty is a team that executes really well offensively, but we did a better job in the second half."
Those last 20 minutes were a thing of beauty from the perspective of the home team. The numbers bore out an absolute blowout. In the second half, the Bulldogs shot 63.3 percent (19-for-30) from the field and nailed 11 triples while the Lancers struggled to 25.0 percent (8-for-32) from the floor, including 0-for-10 from beyond the arc. Seven different Concordia players made at least one 3-point field goal, including reserves Matteo Busnardo and Alec Johnston.
Kyle Pierce (16 points, six rebounds) and Tanner Shuck (21 points, 7-for-12 shooting) really stole the show in the second half. They put on an impressive shooting display. All four of Pierce's treys came over the final 20 minutes. This offense has proven it can light opponents up when it operates at the level of efficiency it did on Tuesday.
"Our defense was really leading to our offense, but we were just getting good passes and really whipping it around," Pierce said. "We were just putting them in. It was target practice in the second half."
Pierce and Shuck were two of four Bulldogs to drop 16 or more points on the night. The consistent Jake Hornick piled up 18 points, seven rebounds and six assists in 31 minutes. In the post, Clay Reimers recorded 18 points, eight rebounds and five assists. The high man off the bench was sophomore Brevin Sloup with eight points.
The Bulldogs are now 4-0 at home and have made a combined 51 3-point shots in those contests. Walz has been more than friendly to the home team.
"I wish we could play every game here, but they won't allow that," Limback joked. "Especially in the second half, the ball was moving better and guys were looking for each other. Just proud of the way we played in the second half."
Sheldon Siemonsma paced Mount Marty (1-7, 0-3 GPAC) with 19 points on 6-for-11 shooting from the field. Concordia limited the GPAC's second leading scorer, Marcus Mathieu, to 16 points. He had a tough night shooting, going 4-for-18 from the floor. Both teams were deadeye from the foul line – 17-for-18 by Concordia and 20-for-23 by the Lancers.
Now it's on to Golden, Colo., for two games at Colorado School of Mines. The Bulldogs will play an exhibition with the host on Friday before a countable tilt versus Colorado Christian University at 2 p.m. CT on Saturday. Both opponents are affiliated with NCAA Division II.