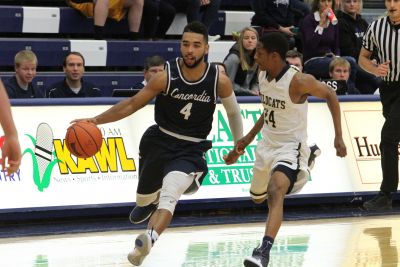 No. 8 Midland snaps Bulldog win streak despite 26 points from Folkerts
SEWARD, Neb. – The Concordia University men's basketball team entered Wednesday night's contest brimming with confidence following three-straight wins, including one over third-ranked Northwood University. However, Alex Starkel and eighth-ranked Midland put a halt to the win streak by recording an 86-76 victory inside Walz Arena.
Now 4-5 at home, second-year head coach Ben Limback's squad slipped to 10-8 overall and 5-6 in conference play (sixth place). In its latest loss, Concordia struggled to dig out of a first-half hole produced by a 15-0 Midland run.
"I'm pleased with how we competed after that run, but very disappointed in that run," Limback said. "We've been talking about maintaining an aggressiveness and confidence level. I thought they turned the pressure up and we didn't match the intensity that needed to be there. Give them credit. They really attacked us."
NAIA Division II National Player of the Week Chandler Folkerts picked up where he left last week. He again was near unstoppable when catching the ball in the post. The Milford native piled up a career high 26 points (9-for-12 shooting) to go along with eight rebounds. Unfortunately, Folkerts sat on the bench for key stretches of the second half due to foul trouble.
Although they trailed by as many as 15 points in the first half, the Bulldogs fought tooth and nail to the end. Concordia got back within six late in the second half and then trailed just 77-70 with 2:01 left after Robby Thomas knocked in a corner triple. Jalen Hueser followed with four-straight free throws for Midland (14-3, 7-1 GPAC) and the Bulldogs never got closer than 10 points.
Midland 6-foot-7 sophomore Alex Starkel did his best to ensure the end of Concordia's win streak. Starkel poured in 17 of his team high 22 points in the second half to thwart the Bulldogs' attempt at a comeback victory. Starkel worked the inside while the likes of Galen Gullie (13 points) and DJ Vaughn (13 points) hit clutch shots from the perimeter to help secure the Warriors' 14th win.
Folkerts' 26 points edged his previous career best point total of 25 put forth in Saturday's 87-83 win over Dordt. The 6-foot-8 sophomore post has emerged as one of the league's most potent inside scorers.
"When he was in there he was a difference for us. He kept us in the game," Limback said. "He really did some nice things. We talked to our team about how other guys have to match that confidence level and intensity."
Midland, last season's NAIA Division II national runner up, shook off a 73-68 setback at Dakota State in its previous outing. The Warriors' only conference loss came by a 90-74 score at No. 15 Dakota Wesleyan on Dec. 6.
Micah Kohlwey and Joel Haywood both had 10 points for the Bulldogs. Kohlwey threw in a circus shot on a fastbreak in serving as the highlight reel play of the night. Haywood had a nice all-around game that included eight rebounds and eight assists. Meanwhile, Thomas chipped in nine points in his return to the lineup after sitting out the win over Dordt.
The Bulldogs remain at home for the third-straight game when they host Northwestern (10-6, 3-5 GPAC) at 4 p.m. on Saturday. The two sides split last season's pair of meetings with the home team coming out on top in both contests. In Feb. 15 matchup in Seward, Chandler Folkerts produced 19 points and six rebounds to lead a 95-75 Concordia win.