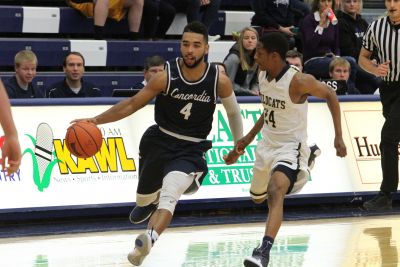 No. 4 Dakota Wesleyan buries Bulldogs with perimeter shooting
MITCHELL, S.D. – Faced with perhaps its most difficult test to date, the Concordia University men's basketball team gave fourth-ranked Dakota Wesleyan an early scare before the Tigers responded and earned a 91-78 win in Mitchell, S.D., on Friday evening. Host Dakota Wesleyan remained unbeaten when playing inside The Corn Palace (8-0).
Second-year head coach Ben Limback's bunch dropped back to .500 overall (7-7). The Bulldogs now sit at 4-5 in conference action.
Behind torrid early 3-point shooting, the Bulldogs built a 14-6 lead when Eli Ziegler's trey feathered through the net at the 14:38 mark of the first half. First-place Dakota Wesleyan (13-1, 6-1 GPAC) awoke and went on a 26-5 spurt that gave it a lead it never relinquished.
The Tigers, who entered the night ranked second nationally in 3-point field goal percentage (.441), turned the tables with some hot outside shooting of their own. The combo of Trae Bergh (22 points) and Joey Mitchell (18 points) burned Concordia with a combined 11-for-17 night from distance. As a team, the Bulldogs equaled them by making 11 of 17 shots from beyond the arc, but it wasn't enough to keep up with Dakota Wesleyan's 55.4 percentage from the field.
"One of the keys was to limit their threes. To beat a team like that at their place you can't give up 15 threes," Limback said. "They just shot the lights out. I thought a lot of their threes were contested and we made them work for them. Very few teams are going to beat them here when they shoot like that."
The Bulldogs attempted to counter with solid offensive nights by standouts Robby Thomas (20 points, 4-for-6 from three) and Chandler Folkerts (13 points, 5-for-6 from the field). The duo kept Concordia from getting blown out of the water even in the face of the Tiger onslaught from the perimeter. Thomas made two early threes to help build Concordia's eight-point first-half advantage.
After trailing by 16 at the half, the Bulldogs got as close as 12 points (59-47) after back-to-back Thomas free throws made it a 9-3 Concordia run with 13:27 left. But as so often happened on Friday, Bergh simply answered on the other end with another long jumper.
"I liked the way we came in and approached the game," Limback said. "I didn't know exactly what to expect but we came out and were aggressive. Then there was a moment in the second half where they could have made it a 30-40 point game. I liked the way we fought and didn't quit. There's a reason Dakota Wesleyan is No. 4. We're not there yet."
Thomas led a quartet of double-figure scorers for Concordia. Micah Kohlwey poured in 16 points (3-for-4 from 3-point range) and Eli Ziegler added 11 points. Ziegler has gone 6-for-9 from beyond the 3-point line over the past two games.
GPAC leading scorer Jalen Voss paced all players with 25 points. Voss made all three of his attempts from beyond the arc while also blocking a pair of shots in 21 minutes of action.
The Bulldogs resume action in 10 days when they begin a two-game swing in West Palm Beach, Fla., where they will play host and third-ranked Northwood University (7-0) on Dec. 29 and Concordia University-Canada (1-3) on Dec. 30. Concordia will depart from Seward on Dec. 26 as it embarks on its journey to The Sunshine State.