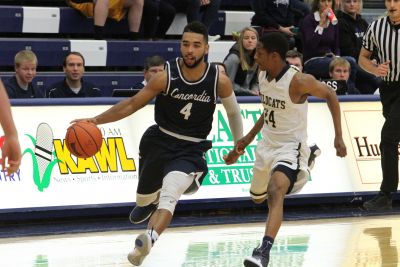 Nebraska Wesleyan blisters nets in convincing win at Concordia
SEWARD, Neb. – Rival Nebraska Wesleyan opened up a big early lead powered by a lights-out shooting effort en route to an 83-57 win over Concordia on Wednesday night. The Bulldogs were outplayed in many key statistical categories as they dropped to 3-8 overall and 1-5 in conference action.
The Prairie Wolves (6-2, 2-2 GPAC) knocked down nine of their first 13 shots and put up a 55.4 shooting percentage for the game. They also nabbed 36 boards to Concordia's 31 as rebounding difficulties plagued first-year head coach Ben Limback's young squad once again.
"We've got to be able to play better defense than that," Limback said. "You have to hand it to Wesleyan. They came out and really played hard and (Trevor) Johnson killed us inside. I just didn't like the way we competed in the first half."
Wednesday's game provided a remarkable contrast of experience against youth. The veteran Prairie Wolves started four seniors and a sophomore while the Bulldogs put one senior, three sophomores and a freshman on the floor to begin the game. That veteran lineup paid off down the stretch as Johnson and company held off a Concordia charge midway through the second half.
The Bulldogs were able to climb back within striking distance on the back of freshman Chandler Folkerts' career best 23 points. He and senior Adam Vogt were the only Bulldogs to reach double figures. Vogt gave his team life with a trey at the 8:34 mark that brought Concordia within 10, 57-47.
But the Bulldogs would get no closer as Wesleyan took back control with a 26-10 run to end the contest with plenty of breathing room. Johnson and fellow senior Eric Jackson proved too difficult to keep up with. Johnson racked up a game high 24 points and Jackson collected 20 in providing the bulk of the Prairie Wolf offense.
Folkerts was again a bright spot despite the loss. The Milford native continued his near automatic touch in the paint. He made 7 of 10 shots from the field and connected on 9 of 13 attempts from the foul line. Vogt came in next with 14 points.
As a team the Bulldogs shot 36.2 percent. They were a solid 19-for-24 (.792) from the charity stripe.
Concordia remains at home to take on Mount Marty (0-9, 0-5 GPAC) on Saturday at 4 p.m. as part of another women's and men's GPAC doubleheader. Last season Concordia split two games with the Lancers with the home team winning in both instances. Mount Marty fell 102-77 to Morningside on Wednesday night and is still searching for its first win of the season.