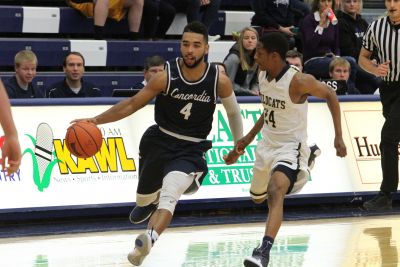 Midland University upsets Concordia in opening round of GPAC Tournament
Midland University pulled an upset Tuesday evening and defeated Concordia 81-66 in the first round of the GPAC men's basketball tournament. The Warriors improved to 8-23 on the year and will face Dakota Wesleyan on Thursday evening. Concordia finished the year at 16-13.
The first half featured seven ties. Concordia led by as many as three, and Midland led by as many as six in the opening 20 minutes. The Warriors, however, scored six of the last eight points of the half and took a 35-31 lead into halftime. Both teams struggled offensively in the opening half. Midland was just 11-of-34 (32.4 percent), while Concordia was 8-of-24 (33.3 percent) from the field. Concordia also had eight turnovers in the opening 20 minutes.
Midland scored the opening basket of the second half to grab a 37-31 lead, but Concordia scored the next eight points to take a 39-37 lead. With the game tied at 40-40, Midland's Marcus Messersmith hit back-to-back 3-pointers to swing the momentum and give the Warriors a 46-40 lead with just over 16 minutes remaining.
The Warriors led the rest of the way and turned several Concordia miscues into easy baskets. Midland had three fast break dunks off of Bulldog turnovers, and the Warriors quickly established a double digit lead.
Concordia cut the Midland lead to five (56-51) with less than 10 minutes remaining, but the Warriors again responded with a run to built the lead back to double digits. The Warriors led by as many as 20 in the second half and cruised to the 81-66 win.
Midland was 23-of-62 (37.1 percent) from the field on the night. The Warriors were 7-of-27 (25.9 percent) from deep and 28-of-35 (80 percent) at the foul line. The Warriors held a 44-37 rebounding advantage and forced 16 Bulldog turnovers.
Messersmith led the way with a game-high 27 points on 7-of-13 shooting from the field. He hit four 3-pointers and was 9-of-11 at the foul line. P.J. Mallette scored 12, while Alex Knobbe added 11 points, seven assists and seven rebounds. Zach Rosenboom had a game-high 11 boards for the Warriors.
Concordia was just 19-of-52 (36.5 percent) from the field in the loss. The Bulldogs hit just three shots from deep on the night and were 25-of-34 (73.5 percent) at the foul line.
Porter Birtell (Madison, Neb.) scored a team-best 14 in a losing effort. Birtell was 4-of-6 from the field and 6-of-8 at the foul line. He also added seven rebounds. Sam Huebner (Aurora, Colo.) added 13 points, and Ryan Shrum (Allen, Texas) scored 12. Charles Dunbar (Florissant, Mo.) delivered 10 points off the bench for the Bulldogs.