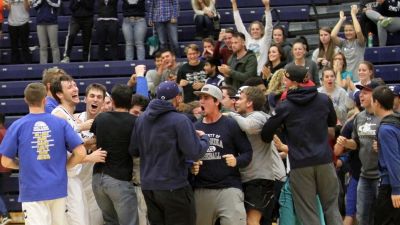 The 2015-16 season saw the continued rise of the Concordia men's basketball program under Ben Limback, who completed his third year at the helm of the Bulldogs. A 4-0 start that included a win over then eighth-ranked Bellevue University brought buzz back to an outfit still seeking its first national tournament appearance since finishing as the national runner up in 2005.
A major reason for the program's resurgence has been the work of two-time first team all-conference post Chandler Folkerts, one of the nation's most efficient inside scorers. This past season Limback added Wayne State transfer Jamie Pearson to add sizzle to the backcourt. The result was an exciting brand of hoops that produced the third-highest scoring average in program history.
"We had tremendous players. We had a dominating post presence inside with Chandler and perimeter players like Jamie who had a great year," Limback said. "His playmaking ability opened up some things and allowed us to really push in transition. Then you add the balance with Eli (Ziegler) and Robby (Thomas) on the perimeter and Micah (Kohlwey) shot a good percentage. Our league overall was a very high possession league so scoring overall was up. The buy in offensively from our team and the type of players we had was a huge deal this year."
The season culminated with an 18-12 overall record, marking the most wins for the program since the 2009-10 campaign. The Bulldogs had hoped to jump higher than their sixth-place conference finish, which forced them to again go on the road for the GPAC quarterfinals where their season ended at Dakota Wesleyan for the second-straight year.
Concordia's best stretch of play came late in the season when it won seven of eight games. That run was punctuated with a 110-89 shootout victory over Northwestern on senior day. The Bulldogs shot 61.2 percent from the field in the win and finished the season at 50.5 percent, good for third best among all NAIA Division II programs. The team's offensive prowess provided fueled optimism for Concordia's return to the national stage.
"It was a season in which we had a lot of aspirations to do big things," Limback said. "I thought we had a group that was hungry to compete for a GPAC championship and get to the national tournament. That's not an easy thing to do. We started off well and beat some ranked teams. In the middle of the season we lost a lot of close games, ones that maybe we should have won. Then I thought we had a nice run at the end. I was pleased in some cases, but all of us will admit that we wanted to get a little further and get to that national tournament and compete for a conference championship."
Limback and his coaching staff, including full-time assistant Lance Korell, identified two major areas in need of improvement in order for the Bulldogs to reach their lofty goals. Concordia allowed conference opponents to shoot 39.4 percent from 3-point range and had an average turnover margin of minus-2.4 in GPAC contests. Turn those numbers around in 2016-17 and the Bulldogs will have a greater shot of extending their season into March.
Concordia will also be tasked with replacing senior starters in Kohlwey, Pearson and Thomas, who combined to average 37.6 points per game. Folkerts and Ziegler, a sharpshooter with 160 career 3-point field goals, will be back to form a potent inside-outside scoring duo. Limback will expect contributions from other returners such as Seth Curran, Justin Damme and Kyle Pierce. No doubt there are openings for the incoming class of recruits.
"We're going to have some returning guys stepping into those shoes and getting minutes," Limback said. "Then we have some new guys, including some freshmen and some transfers that we're excited about and think will gel well with the team. We expect them to compete for spots as well. It should be a fun and competitive preseason. There are a lot of question marks heading into the year in terms of who's going to be where. There's also some stability with Chandler and Eli and Justin really came on. Then you have guys like Kyle Pierce who played some significant minutes who will definitely have a hand in it."
Limback is also excited about having strength and conditioning coordinator Todd Berner around for an entire offseason. Expected strength and athletic gains along with another year of development for Folkerts have the potential to bump up Concordia's win total for a fourth-straight season. Folkerts and the high-powered Bulldogs will again take aim at ending the program's national tournament dry spell.