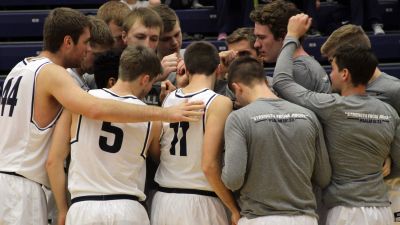 SEWARD, Neb. – For the second time in the history of the Concordia Invitational Tournament, Walz Arena will serve as the host for the grand event that is now in its 66th year. The Bulldog men's basketball team held off Concordia-Wisconsin, 86-85, in last season's CIT championship heart stopper in River Forest, Ill. Blackboard and Chartwells are sponsoring this year's CIT.
Head coach Ben Limback's squad will take the floor at 8 p.m. on Friday in the final contest of CIT's opening day. CUNE draws Concordia-Chicago in the opening round. All four men's and all four women's games will be streamed live via the Concordia Sports Network. Bulldog games will also be carried live by 104.9 Max Country with Tyler Cavalli calling the action.
Wednesday vs. Hastings: Before CIT tips off on Friday, Concordia will welcome Hastings (12-11, 6-5 GPAC) for an 8 p.m. contest inside Walz Arena on Wednesday. The Broncos defeated Doane, 86-69, and No. 4 Northwestern, 90-85 (double overtime), in last week's action. Senior guard Rich Williams came off the bench to supply 50 points over the two victories for Hastings. Meanwhile, the Bulldogs shot a season low 41.7 percent from the field in last week's 85-65 home loss to Morningside. Concordia will try to regain its shooting stroke following back-to-back home defeats within the GPAC.
2017 CIT SCHEDULE
Friday, Jan. 27 (all times Central)
1 p.m. - Ann Arbor vs. Chicago (women)
3 p.m. - Ann Arbor vs. Wisconsin (men)
6 p.m. - Nebraska vs. Wisconsin (women)
8 p.m. - Nebraska vs. Chicago (men)
Saturday, Jan. 28
Noon - Women's consolation game
2 p.m. - Men's consolation game
5 p.m. - Women's championship game
7 p.m. - Men's championship game
Trophy presentation and all-Concordia devotions following last game
CUNE men's CIT titles (26)
1964 | 1977 | 1983 | 1984 | 1986 | 1987 | 1988 | 1989 | 1990 | 1991 | 1992 | 1994 | 1995 | 1996 | 1997 | 1999 | 2000 | 2001 | 2002 | 2003 | 2004 | 2005 | 2009 | 2012 | 2014 | 2016
CUNE has pieced together a long history of success at CIT. Twenty four of the program's event record 26 titles have come since 1983. The Bulldogs have twice put together streaks of seven-consecutive CIT titles. The most recent such string occurred between 1999 and 2005 under head coach Grant Schmidt. Limback, who played for Schmidt, has the unique perspective of having coached two different Concordias to CIT titles. Limback helped Concordia-Ann Arbor break through with its first two CIT titles in school history. He's added two more CIT titles since returning to Seward.
The Bulldogs will attempt to repeat their 2016 title behind reigning CIT MVP Chandler Folkerts. The Chanimal is in the midst of a stellar senior season, during which he has averaged 18.9 points and 7.9 rebounds. Over last year's CIT wins over CUAA and CUW, Folkerts totaled 45 points and 19 rebounds. Folkerts was joined on the 2016 all-tournament team by teammate Robby Thomas. Folkerts also played his way onto the all-tournament team after the Bulldogs won CIT in Mequon, Wis., in 2014.
CUAA picked up its third CIT championship in 2015 when it protected its home court with a last-second buzzer-beating 3-pointer to sink CUNE, 52-49. Concordia-Chicago owns the second most CIT titles in the field with 14. CUW has also won it three times. The last time the Falcons took home the trophy was 2013 when they knocked off the Bulldogs in Seward in the championship clash.
The feeling of winning CIT titles never gets old. Said Folkerts following last year's championship victory over CUW, "It's awesome. It's so fun winning here. So many fans come out and they're all rowdy. It's so fun. Playing in an environment like this, it's huge. It's great to win."
SCOUTING THE FIELD
Concordia University, Nebraska
2016-17 Record: 12-8
Head Coach: Ben Limback (4th season)
All-Time CIT Titles: 26 (most recent: 2016)
Top Player: Chandler Folkerts (19.0 ppg, 7.9 rpg, 1.5 bpg, .685 fg%, .746 ft%)
Offensive PPG: 86.8 (26th in NAIA Division II)
Defensive PPG: 79.9 (82nd in NAIA Division II)
Quick Hitter: The Bulldogs are one of the most potent offensive teams in NAIA Division II, sporting national rankings of third in 3-point field goal percentage (.418), third in field goal percentage (.521), 10th in free throw percentage (.764), 19th in 3-point field goals per game (10.1) and 26th in scoring offense (86.8).
Concordia University, Ann Arbor
2016-17 Record: 8-13
Head Coach: Ricky Yahn (4th season)
All-Time CIT Titles: 3 (most recent: 2015)
Top Player: Connor Phee (16.6 ppg, 6.5 rpg, .547 fg%, .794 ft%)
Offensive PPG: 70.9 (121st in NAIA Division II)
Defensive PPG: 73.5 (29th in NAIA Division II)
Quick Hitter: Luke Diekevers and Jalen Thompson both scored 19 points in leading the Cardinals to a 74-70 upset at No. 7 Taylor University on Dec. 29. CUAA is 3-7 in its last 10 games, but two of the three victories have come against ranked opponents.
Concordia University, Chicago
2016-17 Record: 4-13
Head Coach: Randy Rogers (2nd season)
All-Time CIT Titles: 14 (most recent: 2011)
Top Player: Mitch Pelissier (17.2 ppg, 4.9 rpg, 3.5 apg, .435 fg%, .343 3-pt fg%)
Offensive PPG: 78.3 (133rd in NCAA Division III)
Defensive PPG: 87.0 (T-396th in NCAA Division III)
Quick Hitter: The Cougars enter CIT ranked near the bottom of NCAA Division III in scoring defense (396th out of 416 teams) and allow opponents to shoot 45.1 percent from the floor (289th nationally). Randy Rogers' up-tempo squad is steered by guard Mitch Pelissier, who has scored nearly 600 points over his first two seasons in River Forest.
Concordia University, Wisconsin
2016-17 Record: 10-6
Head Coach: Shawn Cassidy (10th season)
All-Time CIT Titles: 3 (most recent: 2013)
Top Player: Eric Kittel (15.8 ppg, 5.5 apg, 4.3 rpg, 2.1 spg, .430 fg%, .350 3-pt fg%)
Offensive PPG: 83.2 (56th in NCAA Division III)
Defensive PPG: 79.3 (323rd in NCAA Division III)
Quick Hitter: The Falcons return to the site of their most recent CIT championship. Senior guard Eric Kittel (triple-double on Jan. 21) makes CUW go. He's totaled 1,314 points and has started all 97 games of his career. CUW sits in third place in the Northern Athletics Collegiate Conference.