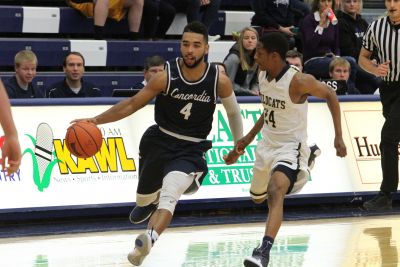 Men's basketball welcomes Dakota Wesleyan for home regular-season finale
SEWARD, Neb. – Senior guard Joel Haywood will play his final regular-season home game as a Bulldog on Saturday when the Concordia University men's basketball team hosts sixth-ranked Dakota Wesleyan (23-3, 13-3 GPAC) on Saturday. Tipoff from Walz Arena is slated for 4 p.m.
Second-year head coach Ben Limback's squad is now 5-7 at home following Wednesday's 86-83 win over Nebraska Wesleyan. The Tigers have won nine of 12 on the road and will seek a season sweep of the Bulldogs (14-12, 7-9 GPAC), whom Dakota Wesleyan defeated, 91-78, in Mitchell, S.D., on Dec. 19.
A live webcast of the contest will be available via the Concordia Sports Network. Saturday is also Fan Appreciation Day in partnership with Wild Chiropractic and Acupuncture of Seward. Temporary tattoos and ice cream will be available between the women's and men's games at Walz.
Z's threes
One of the hottest shooters in the nation, sophomore Eli Ziegler buried Nebraska Wesleyan with seven triples on 12 attempts. With the Bulldogs trailing 80-78 late in the game, the sharpshooting guard from Littleton, Colo., knocked in treys on back-to-back possessions to put Concordia up four and carry it to victory. Ziegler, who notched a career best 25 points in the victory, has averaged 18.5 points while going 20-for-33 (.606) from 3-point range over the past four games. Ziegler's recent binge has pushed his season 3-point field goal percentage to .458, which ranks fourth best among GPAC players and 16th among all NAIA Division II players.
Haywood joins the club
With 16 points in the 84-73 CIT victory over Concordia-Chicago on Jan. 30, senior Joel Haywood became the 26th player in program history to reach 1,000 career points. Over his four-year career, Haywood has averaged 9.9 points in 104 games. The native of Lakewood, Colo., is enjoying his best season in his final year, sporting averages of 11.8 points, 4.0 rebounds, 3.7 assists and 1.5 steals. He is shooting 48.0 percent from the field, 47.2 percent from 3-point range and 89.3 percent from the free throw line (third among all NAIA Division II players). In Wednesday's victory, Haywood posted a line of 20 points, eight assists and seven rebounds.
Thomas swats his way to record
In last week's 52-49 CIT title loss to CU-Ann Arbor, junior Robby Thomas rejected three shots to surpass the former program single-season record of 59 blocks by Glen Snodgrass in 1997-98. Thomas added four more blocks versus Nebraska Wesleyan to run his season total to 65. The native of Shawnee, Kan., now has 130 career blocks over 76 games. Snodgrass remains the program's record holder for career swats with 188 over his 125-game career. Thomas currently ranks third among all NAIA Division II players with 2.71 blocks per game.
Filling it up
Concordia ranks as one of the nation's most prolific 3-point shooting teams, checking in at No. 19 nationally in total 3-point field goals (203) and 23rd in 3-point field goal percentage (.385). Over their last five games, the Bulldogs have averaged 10 triples per game while making 41.3 percent (50-for-121) of their attempts from beyond the arc. Their 14 3-point field goals in Wednesday's win tied a season high. Concordia is 7-2 when connecting on 10 or more 3-pointers in a game.
80 is the magic number
After totaling a season low 49 points in the CIT championship game, Concordia ramped it back up with 86 points in Wednesday's triumph. Ranked 46th nationally with an average of 77.6 points per game, The Bulldogs are 9-1 when scoring 80 or more points. The only loss in such instances was a 108-106 overtime defeat at the hands of Northwestern on Jan. 10.
Scouting Dakota Wesleyan
Head coach Matt Wilber guides one of the nation's most well-rounded teams. The first-place Tigers lean upon a trio of stars in senior forward Jalen Voss (20.3 ppg, 5.4 rpg), senior guard Kris Menning (17.5 ppg, 49.0 3-pt%) and junior guard Trae Bergh (15.9 ppg, 3.85 apg). The talented triumvirate has made Dakota Wesleyan one of the nation's most potent offenses with national rankings of first in 3-point field goals (274), first in assist-to-turnover ratio (2.39), first in field goal percentage (.527), second in 3-point field goal percentage (.418) and seventh in scoring (87.8 ppg). The Tigers' only losses have come away from home to the likes of Dordt (84-83), No. 9 Midland (76-52) and No. 10 Morningside (80-74).