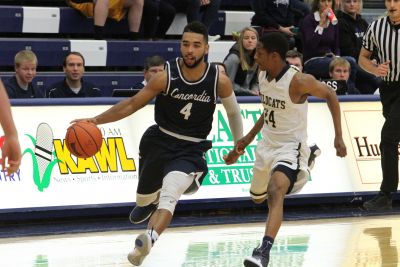 Men's basketball picked eighth in GPAC preseason poll
SEWARD, Neb. – The Concordia University men's basketball team, now in its second season under the direction of head coach Ben Limback, will be expected to make a move up in the GPAC standings in 2014-15. On Tuesday league coaches picked the Bulldogs to finish eighth in the conference.
Concordia will return the bulk of its roster from last season when Limback broke in plenty of young and inexperienced players. Guard Joel Haywood serves as the team's lone senior for the Bulldogs, who could pose problems for opponents with their length and athleticism in the form of Chandler Folkerts (6-8), Robby Thomas (6-7) and Max Wegener (6-9).
With some of the growing pains out of the way, Limback is confident the Bulldogs will make a leap forward after last season's 8-21 campaign.
"Any time you're young and you have a new coach and a lot of new things in a tough league in the GPAC, it's not going to be easy," Limback said. "We didn't meet our expectation by any means, but I do feel that we got something out of the season and something we can build on for this year for sure."
Midland topped the GPAC preseason coaches' poll with 98 points and eight of the 11 first-place votes. The Warriors advanced to the NAIA Division II national title game last season.
2014-15 GPAC Men's Basketball Preseason Coaches' Poll
1. Midland – 98 points (8 first-place votes)
2. Morningside – 88 (2)
3. Dakota Wesleyan – 83 (1)
4. Briar Cliff – 71
5. Dordt – 70
6. Northwestern – 51
7. Hastings – 43
8. Concordia – 39
9. Doane – 30
10. Mount Marty – 17
11. Nebraska Wesleyan – 15