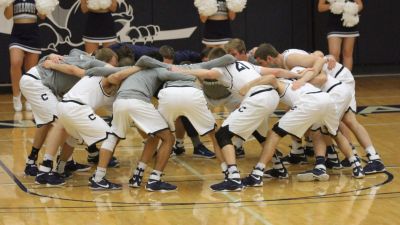 SEWARD, Neb. – Just 11 days out from the opening of the 2017-18 Concordia hoops season, the GPAC released its preseason men's basketball coaches' poll on Thursday (Oct. 19). The Bulldogs picked up 28 points in the poll, slotting them in at the No. 8 position. Last season head coach Ben Limback's squad tied for fifth in the conference.
Concordia returns two starters, junior guard Chris Johnstone and sophomore wing Tanner Shuck, from the 2016-17 team that went 21-10 overall for the program's most wins since the 2004-05 campaign. The current roster is filled with youth. Just one senior and one junior make up this winter's squad. The Bulldogs said goodbye to senior starters Seth Curran, All-American Chandler Folkerts and sharpshooting guard Eli Ziegler.
Under Limback, Concordia has been on an upward trajectory, going from eight wins in 2013-14, to 16 in 2014-15 to 18 in 2015-16 to 21 last season. The program continues to seek its first national tournament berth since 2005.
The season is set to open up Monday, Oct. 30 with a trip to Kansas Wesleyan University. Tipoff from Salina, Kan., is set for 7 p.m. CT.
2017-18 GPAC Preseason Poll
(First-place votes in parentheses)
1. Northwestern – 78 (7)
2. Dakota Wesleyan – 73 (2)
3. Briar Cliff – 61 (1)
4. Morningside – 57
5. Midland – 54
6. Hastings – 38
7. Dordt – 33
8. Concordia – 28
9. Doane – 18
10. Mount Marty – 9