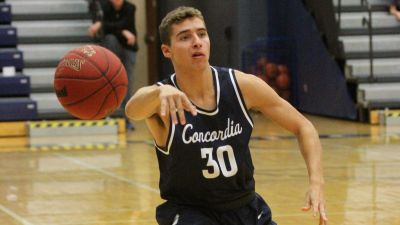 SEWARD, Neb. – In its only official game this week, the Concordia University men's basketball team will head to the Haddix Center on Tuesday for an 8 p.m. tipoff at Doane. Fourth-year head coach Ben Limback's squad has won three-straight meetings with the rival Tigers, who have a new head coach this season. The Bulldogs will also be at NCAA Division II Northwest Missouri State University for an exhibition contest on Saturday.
Tuesday's contest will be carried by 104.9 Max Country with Tyler Cavalli calling the action. Doane will have a live webcast HERE. Northwest Missouri State will have a live webcast for Saturday's tilt HERE.
With Chandler Folkerts feasting inside, the Bulldogs again rank as one of the most efficient offensive teams in the nation. Among all NAIA Division II teams, Concordia ranks eighth in 3-point field goal percentage (.514), 12th in field goal percentage (.514) and 18th in free throw percentage (.752). Folkerts is averaging 20.8 points and 7.9 rebounds while shooting 69.5 percent from the floor. Fellow senior Eli Ziegler has been deadly from the perimeter, shooting 44.6 percent on 3-point attempts. Ziegler is averaging a career best 17.0 points per game.
Concordia hopes to earn its first true road win of the season. The Bulldogs have been dominant at home, going 4-0 with a victory over No. 17 York College included in that run. In its first three true road contests, Concordia has fallen at the hands of Johnson & Wales University (Colo.), Northwestern and No. 21 Midland. However, the Bulldogs have won in three of their last four trips to Crete.
First-year head coach Ian McKeithen's squad has dropped four of five games after a 3-0 start. Doane has guard Mykeil Tzul back in the fold after he sat out the second semester of last season. Tzul is averaging a team best 15.8 points. Inside, 6-foot-7 senior Nate Kuhl has been an effective scorer. The Tigers opened up the conference season with a 79-68 loss at Northwestern on Nov. 19.
Tuesday's projected lineups
Concordia (5-3, 1-2)
G – Chris Johnstone: 11.6 ppg, 2.6 rpg, 2.3 apg, .413 fg%
G – Seth Curran: 8.3 ppg, 3.4 rpg, 3.3 apg, .432 fg%
G – Eli Ziegler: 17.0 ppg, 3.3 apg, 2.6 rpg, .446 3-pt%
F – Kyle Pierce: 3.9 ppg, 3.4 ppg, .364 fg%
C – Chandler Folkerts: 20.8 ppg, 7.9 rpg, 1.5 bpg, .695 fg%
Doane (5-4, 0-1)
G – Chase Stone: 11.2 ppg, 1.0 rpg, .462 3-pt%
G – Mykeil Tzul: 15.8 ppg, 2.9 rpg, 2.4 apg, .472 fg%
G – Reid Williams: 6.4 ppg, 4.0 rpg, .396 fg%
G – Rylee Zimmerman: 8.4 ppg, 4.0 rpg, 1.1 spg, .419 fg%
F – Nate Kuhl: 15.0 ppg, 7.1 rpg, 1.6 bpg, .639 fg%