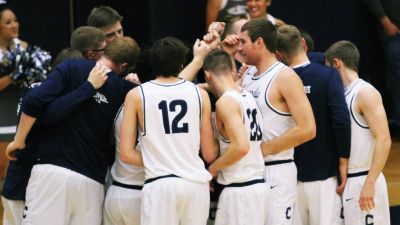 SEWARD, Neb. – Possessing one of the league's leading candidates for player of the year, the 2016-17 Concordia men's basketball has been tabbed eighth in the GPAC preseason poll by conference coaches, as announced on Wednesday. Fourth-year head coach Ben Limback's squad picked up a total of 32 points, placing it ahead of Doane and Mount Marty.
Last season the Bulldogs finished sixth in the conference and concluded the 2015-16 campaign with records of 18-12 overall and 10-10 inside league play. Concordia has improved its win total each season under Limback.
While three of last season's starters have exhausted their eligibility, the Bulldogs welcome back honorable mention All-American Chandler Folkerts, one of the nation's most dominant frontcourt performers. As a junior he averaged 19.6 points, 8.5 rebounds and 1.4 blocks and shot 66.6 percent from the floor. The other returning starter is senior guard Eli Ziegler, a sharpshooter with a career 3-point field goal percentage of 42.3. Said Folkerts, "We went to finish top three or four in the conference. That's the big goal for me."
The 2016-17 season officially tips off for the Bulldogs in Denver, Colo., on Oct. 28 when it takes on Dickinson State University (N.D.) as part of a two-game trip in Colorado.
2016-17 GPAC Preseason Poll
(First-place votes in parentheses)
1. Briar Cliff – 81 (9)
2. Midland – 72 (1)
3. Dakota Wesleyan – 57
4. Dordt – 53
5. Morningside – 48
6. Northwestern – 44
7. Hastings – 37
8. Concordia – 32
9. Doane – 17
10. Mount Marty – 9